Last Update:
24 Novembre, 2018
BMW SERIE 3 Professional Touch Up Kit Spray with the best colour match for cars: 2K High Gloss Clear Coat and Metallic Paint 475 BLACKSAPPHIRE MET.
Kit2-VCD-BMW-475
Reviews
16
- Evaluation
4.6
Descrizione
This is the best BMW SERIE 3 Touch Up Kit for a professional car bodywork restoration with spraycans: the Professional Car Touch Up Kit includes high coverage Metallic or Pearl BMW Paint and 2K High Gloss Clear Coat.
The Car Paint is our NextColor Custom Paint, produced in the original colour 475 BLACKSAPPHIRE MET. Since it is a bodywork double-coat paint, it is a matt coating that needs the application of clear gloss coat, therefore the other item in the Kit is the 2K spray High Gloss Lacquer NextClear. That spray must be activated only at the moment of use, for any further information please refer to the individual products.
We underline that the Professional Kit is formulated to get the best brilliance and resistance in painting, that can be assured only with the application of a good 2K Lacquer.
Both spraycans are 400 ml.
This Kit includes:
Spray cans 400 ml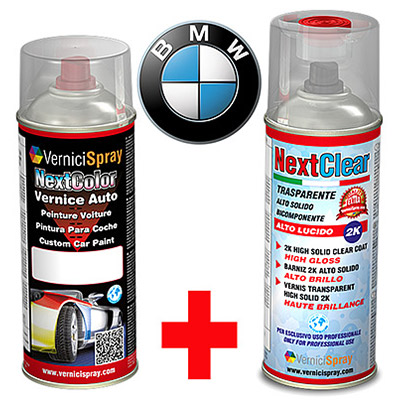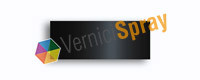 475 BLACKSAPPHIRE MET.
Available in different formats
Select the Colour you need
Car Make:

BMW

Car Model:

SERIE 3

Please enter a valid email address.
Original Colour Code
Year
Product code
ACHATGRUEN M.
177
1983 - 1986
Kit2-VCD-BMW-177
ADVENTURINSILBER MET.
S58
2007 - 2012
Kit2-VCD-BMW-S58
AGAISHBLAU MET.
557
1994 - 2000
Kit2-VCD-BMW-557
ALASKA/ PUDERBLAU MET.
367
1995 - 2000
Kit2-VCD-BMW-367
ALPINAGRUEN II MET.
U08
2008 - 2015
Kit2-BMW-U08
AQUA MET.
451
1994 - 2000
Kit2-VCD-BMW-451
ARKTIKRAU MET.
C27
2015 - 2015
Kit2-BMW-C27
ARKTIS/GREEN MET.
A34
2004 - 2009
Kit2-VCD-BMW-A34
ARKTISBLAU MET.
045
1985 - 1986
Kit2-VCD-BMW-045
ARKTISGRAU MET.
269
1994 - 2000
Kit2-VCD-BMW-269
ARTIKSILBER MET.
309
1993 - 2000
Kit2-VCD-BMW-309
ASCOTGRUN MET.
353
1994 - 2002
Kit2-VCD-BMW-353
ASPENSILBER MET.
339
1994 - 1994
Kit2-VCD-BMW-339
ATLANTIC BLAU MET.
A13
2007 - 2010
Kit2-VCD-BMW-A13
AURUM (BEIGE) MET.
S01
2003 - 2003
Kit2-VCD-BMW-S01
AVUSBLAU PEARL MET
276
1996 - 2000
Kit2-VCD-BMW-276
AZURITSCHWARZ MET.
S34
2007 - 2015
Kit2-VCD-BMW-S34
BAHAMABEIGE MET.
170
1983 - 1986
Kit2-VCD-BMW-170
BALTICBLAU M.
178
1983 - 1983
Kit2-VCD-BMW-178
BARBERAROT MET.
A39
2007 - 2013
Kit2-VCD-BMW-A39
BARRIQUEROT MET.
A41
2006 - 2007
Kit2-VCD-BMW-A41
BEDOUIN NEPAL SILVER MET.
374
1994 - 1995
Kit2-VCD-BMW-374
BERNSTEIN/AMBRA MET.
476
2001 - 2005
Kit2-VCD-BMW-476
BLACKSAPPHIRE MET.
475
2001 - 2015
Kit2-VCD-BMW-475
BLU METAL MET.
558
1994 - 2000
Kit2-VCD-BMW-558
BLUE ONYX MET.
S11
2009 - 2009
Kit2-VCD-BMW-S11
BLUEWATER MET.
896
2008 - 2012
Kit2-VCD-BMW-896
BOSTONGRUN PEARL MET.
275
1993 - 2000
Kit2-VCD-BMW-275
BRILLIANTWEISS MET.
U21
2013 - 2015
Kit2-VCD-BMW-U21
BRITISH RACING GREEN
553
1994 - 2000
Kit2-VCD-BMW-553
BROKATROT MET.
259
1990 - 1994
Kit2-VCD-BMW-259
BRONZIBEIGE MET.
139
1983 - 1990
Kit2-VCD-BMW-139
BRONZIT MET.
421
1999 - 2004
Kit2-VCD-BMW-421
BURGUNDROT (CHIARETTO) MET.
894
2003 - 2005
Kit2-VCD-BMW-894
BURGUNDROT (CHIARETTO) MET.
199
1983 - 1989
Kit2-VCD-BMW-199
BYZANZ MET.
556
1994 - 2000
Kit2-VCD-BMW-556
BYZANZ MET. ( VEDI BMW-556 )
355
1997 - 2000
Kit2-VCD-BMW-355
CALYPSO ROT PEARL MET.
252
1990 - 2000
Kit2-VCD-BMW-252
CANYONROT PRL. MET.
343
1996 - 2000
Kit2-VCD-BMW-343
CARBONSCHWARZ MET.
416
2003 - 2015
Kit2-VCD-BMW-416
CAYENNE MET.
520
1994 - 2000
Kit2-VCD-BMW-520
CIRRUSBLAU MET.
189
1988 - 1989
Kit2-VCD-BMW-189
CITRINSCHWARZ MET.
WX02
2013 - 2014
Kit2-VCD-BMW-WX02
CITRINSCHWARZ MET.
X02
2015 - 2015
Kit2-VCD-BMW-X02
CORDOBAROT / MYSTERY PINK MET.
286
1994 - 1996
Kit2-VCD-BMW-286
COSMOS BLAU MET.
185
1985 - 1986
Kit2-VCD-BMW-185
COSMOSSCHWARZ MET.
303
1994 - 2004
Kit2-VCD-BMW-303
DAYTONAVIOLET MET.
283
1996 - 1996
Kit2-VCD-BMW-283
DELPHIN MET.
184
1983 - 1990
Kit2-VCD-BMW-184
DIAMANTSCHWARZ MET.
181
1985 - 1991
Kit2-VCD-BMW-181
DIOPSIDSCHWARZ MET.
S44
2009 - 2009
Kit2-VCD-BMW-S44
ESTORILBLAU II MET.
B45
2012 - 2015
Kit2-VCD-BMW-B45
ESTORILBLAU MET.
335
1997 - 2000
Kit2-VCD-BMW-335
FARNGRUN MET.
386
1997 - 2004
Kit2-VCD-BMW-386
FIORDGRAU MET.
310
1993 - 1994
Kit2-VCD-BMW-310
FLAMENCO ROT MET.
470
2001 - 2005
Kit2-VCD-BMW-470
FROZEN BRONZE MET
W06
2014 - 2015
Kit2-VCD-BMW-W06
FROZEN SILVER MET.
W07
2011 - 2012
Kit2-VCD-BMW-W07
GLACIER SILBER MET
A83
2011 - 2015
Kit2-VCD-BMW-A83
GLETSCHERBLAU MET.
280
1990 - 1994
Kit2-VCD-BMW-280
GRANITSILBER MET.
237
1991 - 1994
Kit2-VCD-BMW-237
GRAPHIT MET.
087
1983 - 1983
Kit2-VCD-BMW-087
GRAUGRUEN MET.
442
2002 - 2005
Kit2-VCD-BMW-442
GRUN PEARL MET.
324
1993 - 1994
Kit2-VCD-BMW-324
HAVANNA/BRAUN MET.
A17
2004 - 2015
Kit2-VCD-BMW-A17
IMPERIALBLAU MET.
A89
2012 - 2015
Kit2-VCD-BMW-A89
INTERLAGOS BLAU MET.
A30
2005 - 2012
Kit2-VCD-BMW-A30
ISLANDGRUN MET.
273
1990 - 1994
Kit2-VCD-BMW-273
JAPANROT UNI
438
2001 - 2007
Kit2-VCD-BMW-438
JATOBA (DK GREY) MET.
B65
2014 - 2015
Kit2-VCD-BMW-B65
JAVABRAUN/SPARKLING BRONZE MET.
B06
2012 - 2015
Kit2-VCD-BMW-B06
JEREZSCHWARZ MET.
A73
2007 - 2011
Kit2-VCD-BMW-A73
KALAHARIBEIGE MET.
481
2013 - 2015
Kit2-VCD-BMW-481
KALLISTOGRAU MET.
B64
2013 - 2015
Kit2-VCD-BMW-B64
KASCHMIRBEIGE MET.
301
1991 - 1994
Kit2-VCD-BMW-301
KASCHMIRSILBER/ MARZIPAN MET.
A72
2013 - 2015
Kit2-VCD-BMW-A72
KASTANIENBRAUN MET.
C29
2015 - 2015
Kit2-BMW-C29
KIRUNAVIOLETT MET.
398
1997 - 2000
Kit2-VCD-BMW-398
KORAL MET.
420
2000 - 2002
Kit2-VCD-BMW-420
LAGUNENGRUEN M.
266
1990 - 1994
Kit2-VCD-BMW-266
LAZURBLAU MET.
294
1990 - 1991
Kit2-VCD-BMW-294
LEMANSBLAU MET.
381
2006 - 2015
Kit2-VCD-BMW-381
LIGHTGELB MET.
376
1999 - 2005
Kit2-VCD-BMW-376
LIQUID BLUE MET
B40
2011 - 2015
Kit2-VCD-BMW-B40
LUXORBEIGE MET.
219
1988 - 1990
Kit2-VCD-BMW-219
MADEIRASCHWARZ MET.
302
1993 - 2000
Kit2-VCD-BMW-302
MALACHITGRUN MET.
205
1988 - 1990
Kit2-VCD-BMW-205
MAURITIUSBLAU MET.
287
1990 - 1994
Kit2-VCD-BMW-287
MEDITERRANBLAU MET
C10
2015 - 2015
Kit2-VCD-BMW-C10
MEERGRUEN MET.
393
1998 - 2004
Kit2-VCD-BMW-393
MELBOURNEROT MET.
A75
2007 - 2015
Kit2-VCD-BMW-A75
MIDNIGHT BLUE II MET
B38
2013 - 2015
Kit2-VCD-BMW-B38
MILANOBEIGE MET.
A84
2013 - 2015
Kit2-VCD-BMW-A84
MINERALGRAU MET.
B39
2011 - 2015
Kit2-VCD-BMW-B39
MINERALSILBER MET.
A14
2005 - 2015
Kit2-VCD-BMW-A14
MINERALWEISS MET.
A96
2010 - 2015
Kit2-VCD-BMW-A96
MOJAVEBRAUN MET.
331
1994 - 1994
Kit2-VCD-BMW-331
MONACOBLAU MET.
A35
2004 - 2013
Kit2-VCD-BMW-A35
MONDSTEIN/ BEIGE MET.
X04
2011 - 2011
Kit2-VCD-BMW-X04
MONDSTEIN/BEIGE MET.
S37
2007 - 2015
Kit2-VCD-BMW-S37
MONTEGOBLAU MET.
A51
2006 - 2012
Kit2-VCD-BMW-A51
MONTREAL BLUE MET.
4CWAWWA
1994 - 2004
Kit2-VCD-BMW-297
MOREAGRUEN M.
288
1993 - 2000
Kit2-VCD-BMW-288
MYSTIC BLAU MET.
WA07
2003 - 2003
Kit2-VCD-BMW-WA07
MYSTIC BLAU MET.
A07
2004 - 2007
Kit2-VCD-BMW-A07
NAVARRAVIOLET MET.
346
1994 - 1994
Kit2-VCD-BMW-346
NEPTUNBLAU MET.
A85
2011 - 2011
Kit2-VCD-BMW-A85
NERZBRAUN MET.
212
1989 - 1990
Kit2-VCD-BMW-212
OPALGRUEN MET.
171
1983 - 1983
Kit2-VCD-BMW-171
ORIENT BLAU MET.
317
1993 - 2005
Kit2-VCD-BMW-317
ORINOCO MET.
560
1994 - 2000
Kit2-VCD-BMW-560
ORIONSILBER MET.
A92
2011 - 2015
Kit2-VCD-BMW-A92
OXFORDGRUEN II MET.
430
2001 - 2005
Kit2-VCD-BMW-430
PEACH MET.
388
1999 - 2002
Kit2-VCD-BMW-388
PETROLMICA MET.
305
1994 - 2000
Kit2-VCD-BMW-305
PHOENIX MET.
445
2003 - 2004
Kit2-VCD-BMW-445
PISTAZIENGRUEN MET.
468
2001 - 2005
Kit2-VCD-BMW-468
PLANITBRONZE MET.
A53
2007 - 2013
Kit2-VCD-BMW-A53
PLATANENGRUEN MET.
188
1985 - 1986
Kit2-VCD-BMW-188
PLATINSILBER MET.
C08
2015 - 2015
Kit2-VCD-BMW-C08
POETIC LIGHT MET.
477
2001 - 2004
Kit2-VCD-BMW-477
POLARIS NEU MET.
060
1983 - 1986
Kit2-VCD-BMW-060
PYRITBRAUN MET.
X13
2014 - 2014
Kit2-BMW-X13
PYRITBRAUN MET.
WX13
2014 - 2015
Kit2-VCD-BMW-WX13
QUARZBLAU MET.
A18
2007 - 2007
Kit2-VCD-BMW-A18
RAUCHTOPAS BROWN MET.
X12
2015 - 2015
Kit2-BMW-X12
RAUCHTOPAS BROWN MET.
WX12
2013 - 2014
Kit2-VCD-BMW-WX12
ROMANTIC ROT MET. (VEDI BMW-369 )
552
1994 - 2000
Kit2-VCD-BMW-552
ROYALBLAU MET.
198
1988 - 1990
Kit2-VCD-BMW-198
RUBINSCHWARZ MET.
S23
2007 - 2015
Kit2-VCD-BMW-S23
RUBINSCHWARZ MET.
X03
2011 - 2011
Kit2-VCD-BMW-X03
SAHARA BEIGE MET.
330
1999 - 1999
Kit2-BMW-330
SAHARA BEIGE MET.(VEDI BMW 330)
443
2000 - 2004
Kit2-VCD-BMW-443
SAMANABEIGE MET.
282
1993 - 1994
Kit2-VCD-BMW-282
SAMOABLAU MET.
295
1993 - 2000
Kit2-VCD-BMW-295
SAPHIRBLAU MET.
149
1983 - 1983
Kit2-VCD-BMW-149
SATINBEIGE MET.
478
2001 - 2004
Kit2-VCD-BMW-478
SCHWARZSILBER MET(P.URTI S3 COMPACT
898
2002 - 2002
Kit2-VCD-BMW-898
SEDONAROT MET.
A79
2011 - 2011
Kit2-VCD-BMW-A79
SEPANG BRONZE MET.
A32
2010 - 2014
Kit2-VCD-BMW-A32
SIENNAROT II MET.
362
1999 - 2004
Kit2-VCD-BMW-362
SIENNAROT MET.
281
1993 - 1994
Kit2-VCD-BMW-281
SIERRA ROT MET.
357
1997 - 2002
Kit2-VCD-BMW-357
SILBERGRAU II MET.
WA08
2003 - 2003
Kit2-VCD-BMW-WA08
SILBERGRAU MET.
A08
2004 - 2012
Kit2-VCD-BMW-A08
SILVERSTONE II MET.
A29
2007 - 2015
Kit2-VCD-BMW-A29
SONORA/BEIGE MET.
A23
2005 - 2007
Kit2-VCD-BMW-A23
SOPHISTOGRAU MET.
A90
2013 - 2015
Kit2-VCD-BMW-A90
SPACEGRAU MET.
A52
2006 - 2015
Kit2-VCD-BMW-A52
SPARKLING BROWN MET.
B53
2013 - 2015
Kit2-VCD-BMW-B53
SPARKLING GRAPHIT MET.
A22
2004 - 2013
Kit2-VCD-BMW-A22
STERLING SILBER MET.
244
1989 - 1994
Kit2-VCD-BMW-244
STERLINGGRAU MET.
472
2006 - 2006
Kit2-VCD-BMW-472
STHALBLAU MET.
372
1997 - 2005
Kit2-VCD-BMW-372
STHALGRAU MET.
400
1999 - 2004
Kit2-VCD-BMW-400
STRATUS/CREMA DUNKEL MET.
440
2008 - 2008
Kit2-VCD-BMW-440
SUMATRAGELB MET.
296
1994 - 1994
Kit2-VCD-BMW-296
TAHITIGRUEN MET.
A78
2008 - 2008
Kit2-VCD-BMW-A78
TANSANITBLAU MET.
WX10
2013 - 2014
Kit2-VCD-BMW-WX10
TANSANITBLAU MET.
X10
2015 - 2015
Kit2-BMW-X10
TASMAN/GRUEN MET.
A81
2008 - 2013
Kit2-VCD-BMW-A81
TECHNOGRAU MET.
893
2001 - 2005
Kit2-VCD-BMW-893
TECNO VIOLETT MET.
299
1994 - 2004
Kit2-VCD-BMW-299
TECNO VIOLETT MET. ( VEDI BMW-299 )
502
1999 - 1999
Kit2-BMW-502
TIEFGRUEN MET.
A43
2005 - 2012
Kit2-VCD-BMW-A43
TIEFSEEBLAU MET.
A76
2008 - 2015
Kit2-VCD-BMW-A76
TITANSILBER MET.
354
1997 - 2015
Kit2-VCD-BMW-354
TIZIANROT
315
1991 - 1993
Kit2-BMW-315
TOPAZBLAU MET.
364
2000 - 2000
Kit2-VCD-BMW-364
TOPAZBLAU MET.
364
1999 - 2004
Kit2-VCD-BMW-364
TUERKIS MET.
419
1999 - 2004
Kit2-VCD-BMW-419
TURMALINVIOLETT MET.
897
2002 - 2005
Kit2-VCD-BMW-897
ULTRAMARINBLAU MET.
A42
2006 - 2006
Kit2-VCD-BMW-A42
VELVET BLUE MET. (VEDI BMW 576)
4CWAWWA
2002 - 2005
Kit2-VCD-BMW-379
VERMILLION RED MET.
A82
2010 - 2015
Kit2-VCD-BMW-A82
VIOLETTROT
316
1993 - 1994
Kit2-VCD-BMW-316
ZOBELBRAUN MET.
196
1985 - 1986
Kit2-VCD-BMW-196
Technical Details
Last Update: Jan 28, 2019 - Views: 23682844