Last Update:
24 Novembre, 2018
SEAT LEON Professional Touch Up Kit Spray with the best colour match for cars: 2K High Gloss Clear Coat and Metallic Paint S5N AZUL IMPERIAL MET.
Kit2-VCD-SEAT-S5N
Reviews
1
- Evaluation
5.0
Descrizione
This is the best SEAT LEON Touch Up Kit for a professional car bodywork restoration with spraycans: the Professional Car Touch Up Kit includes high coverage Metallic or Pearl SEAT Paint and 2K High Gloss Clear Coat.
The Car Paint is our NextColor Custom Paint, produced in the original colour S5N AZUL IMPERIAL MET. Since it is a bodywork double-coat paint, it is a matt coating that needs the application of clear gloss coat, therefore the other item in the Kit is the 2K spray High Gloss Lacquer NextClear. That spray must be activated only at the moment of use, for any further information please refer to the individual products.
We underline that the Professional Kit is formulated to get the best brilliance and resistance in painting, that can be assured only with the application of a good 2K Lacquer.
Both spraycans are 400 ml.
This Kit includes:
Spray cans 400 ml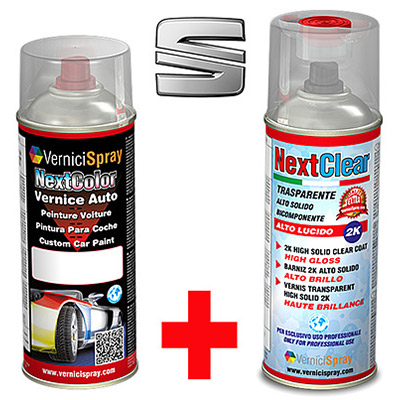 S5N AZUL IMPERIAL MET.
Available in different formats
Select the Colour you need
Car Make:

SEAT

Car Model:

LEON

Please enter a valid email address.
Original Colour Code
Year
Product code
AMARILLO CITRUS MET.
S1T
2007 - 2010
Kit2-VCD-SEAT-S1T
APPLE GREEN MET.
3C
2015 - 2015
Kit2-SEAT-3C
AZUL ADA MET.
7N
2011 - 2011
Kit2-VCD-SEAT-7N
AZUL ADA MET.
W5U
2006 - 2012
Kit2-VCD-SEAT-W5U
AZUL ALOR MET.
E4
2013 - 2015
Kit2-VCD-SEAT-E4
AZUL ANIVERSARIO MET.
S5S/01
2002 - 2007
Kit2-SEAT-S5S/01
AZUL ANIVERSARIO MET.
S5S
2003 - 2007
Kit2-VCD-SEAT-S5S
AZUL ANIVERSARIO MET.
1G
2002 - 2002
Kit2-VCD-SEAT-S5S
AZUL ANNA MET.
S5M
2005 - 2005
Kit2-VCD-SEAT-8D
AZUL APOLO MET.
I4
2013 - 2015
Kit2-VCD-SEAT-I4
AZUL BRISA MET.
W5W
2006 - 2008
Kit2-VCD-SEAT-W5W
AZUL EGEO MET.
S5Z
2000 - 2002
Kit2-VCD-SEAT-S5Z
AZUL IMPERIAL MET.
S5N
2001 - 2002
Kit2-VCD-SEAT-S5N
AZUL IMPERIAL MET.
S5N/98
2000 - 2002
Kit2-SEAT-S5N/98
AZUL LAPISLAZZULI
S5J
2000 - 2002
Kit2-VCD-SEAT-S5J
AZUL LLUVIA MET.
S5V/03
2006 - 2007
Kit2-SEAT-S5V/03
AZUL LLUVIA MET.
S5V
2006 - 2007
Kit2-VCD-SEAT-S5V
AZUL MAR MET.
S5Y
2006 - 2008
Kit2-VCD-SEAT-S5Y
AZUL NAYARA MET.
1L
2008 - 2011
Kit2-VCD-SEAT-1L
AZUL NAYARA MET.
W5T
2009 - 2012
Kit2-VCD-SEAT-W5T
AZUL POLAR MET.
S5T/01
2003 - 2005
Kit2-SEAT-S5T/01
AZUL POLAR MET.
S5T
2003 - 2005
Kit2-VCD-SEAT-S5T
AZUL RODANO MET.
S5N
2000 - 2000
Kit2-VCD-SEAT-S5N
BEIGE BALEA MET.
L7
2012 - 2014
Kit2-VCD-SEAT-L7
BEIGE NIEBLA MET.
S1R
2003 - 2005
Kit2-VCD-SEAT-S1R
BLANCO NEVADA MET
2Y
2013 - 2015
Kit2-VCD-SEAT-2Y
BLANCO NEVADA MET
S9R
2011 - 2013
Kit2-VCD-SEAT-S9R
BLEU BRUMA MICA MET.
S5X
2000 - 2002
Kit2-VCD-SEAT-S5X
BLUE ANTHRAZIT PEARL (VEDI VWL C7V)
C7V
2000 - 2002
Kit2-VCD-SEAT-C7V
DELFINGRAU/FURIA MET.
F5
2009 - 2010
Kit2-SEAT-F5
DELFINGRAU/FURIA MET.
X7Z
2011 - 2012
Kit2-VCD-SEAT-X7Z
DYNAMIC BLUE MET.
A8
2015 - 2015
Kit2-VCD-SEAT-A8
EISSILBER/COOLSILBER MET.
X7W
2011 - 2015
Kit2-VCD-SEAT-X7W
GRIS ARAME MET.
S7M
2006 - 2007
Kit2-VCD-SEAT-S7M
GRIS ARAME MET.
W6Y
2007 - 2007
Kit2-VCD-SEAT-W6Y
GRIS ARTICO MET.
S7N
2000 - 2005
Kit2-VCD-SEAT-S7N
GRIS ARTICO MET.
L1
2002 - 2002
Kit2-VCD-SEAT-S7N
GRIS DELFIN MET.
W7Y
2008 - 2008
Kit2-VCD-SEAT-W7Y
GRIS LAVA MET.
S7X
2006 - 2006
Kit2-VCD-SEAT-S7X
GRIS LUNA MET.
K4
2005 - 2005
Kit2-VCD-SEAT-K4
GRIS LUNA MET.
S7Y
2006 - 2011
Kit2-VCD-SEAT-S7Y
GRIS SOMBRA MET.
S7U
2002 - 2002
Kit2-SEAT-S7U
GRIS SOMBRA MET.
S7U
2003 - 2005
Kit2-VCD-SEAT-H2
GRIS SOMBRA MET.
H2
2002 - 2002
Kit2-VCD-SEAT-H2
GRIS TECNO MET.
S7T
2000 - 2004
Kit2-VCD-SEAT-S7T
GRIS TECNO MET.
N1
2002 - 2002
Kit2-VCD-SEAT-S7T
GRIS TINTA MET.
S7V
2007 - 2007
Kit2-VCD-SEAT-S7V
GRIS TRACK MET.
W7Z
2011 - 2012
Kit2-VCD-SEAT-W7Z
GRIS TRACK MET.
2V
2007 - 2010
Kit2-VCD-SEAT-2V
GRIS URANO MET.
W7X
2009 - 2009
Kit2-VCD-SEAT-W7X
GRIS URANO MET.
6V
2008 - 2010
Kit2-SEAT-6V
GRIS ZENIT MET.
S7Z
2006 - 2008
Kit2-VCD-SEAT-S7Z
INDIGOBLUE PRL.MET. (VEDI VWL-B5N)
B5N
2000 - 2002
Kit2-VCD-SEAT-B5N
INDIUM GRAU MET
H2/10
2001 - 2004
Kit2-SEAT-H2/10
MANDARINA MET.
S2P
2000 - 2004
Kit2-VCD-SEAT-S2P
MONSUNGRAU MET.
0C
2011 - 2015
Kit2-VCD-SEAT-0C
MONSUNGRAU MET.
X7R
2011 - 2013
Kit2-VCD-SEAT-X7R
MYTHOSSCHWARZ PRL
0E
2015 - 2015
Kit2-SEAT-0E
NEGRO INFERI MET.
W9V
2006 - 2009
Kit2-VCD-SEAT-W9V
NEGRO MAGICO MICA MET.
045
2000 - 2000
Kit2-VCD-SEAT-045
NEGRO MAGICO MICA MET.
C9Z
2000 - 2009
Kit2-VCD-SEAT-Z4
NEGRO MAGICO MICA MET.
Z4
2002 - 2002
Kit2-VCD-SEAT-Z4
NEGRO MAGICO MICA MET.
C9Z
2002 - 2011
Kit2-VCD-SEAT-C9Z
NIMBUS GREY MET.
Z7X
2009 - 2011
Kit2-VCD-SEAT-Z7X
ONYXSCHWARZ MET (VEDI VWL-A9Y)
A9Y
2000 - 2002
Kit2-VCD-SEAT-A9Y
PHANTOMSCHWARZ MET.
Z9Y
2011 - 2013
Kit2-VCD-SEAT-Z9Y
PHANTOMSCHWARZ MET.
L8
2011 - 2013
Kit2-VCD-SEAT-L8
ROCKET BLUE MET
A5X
2009 - 2009
Kit2-SEAT-A5X
ROJO ARANDANO MET.
S3R
2000 - 2001
Kit2-VCD-SEAT-S3R
ROJO AZALEA MET.
8M
2002 - 2002
Kit2-VCD-SEAT-S3U
ROJO AZALEA MET.
S3U
2000 - 2002
Kit2-VCD-SEAT-S3U
ROJO DAKOTA MET.
K8
2011 - 2011
Kit2-VCD-SEAT-K8
ROJO DAKOTA MET.
S3Z
2010 - 2012
Kit2-VCD-SEAT-S3Z
ROJO LASER MET.
S3Q
1998 - 2014
Kit2-VCD-SEAT-S3Q
ROJO MONTSANT MET.
S3Q/12
2013 - 2014
Kit2-SEAT-S3Q/12
ROJO RUBI MET.
S3X
2006 - 2010
Kit2-VCD-SEAT-S3X
ROJO RUBI MET.
5M
2005 - 2005
Kit2-SEAT-5M
ROJO SOBERANO MET.
S3W
2003 - 2005
Kit2-VCD-SEAT-D2
ROJO SOBERANO MET.
D2
2002 - 2002
Kit2-VCD-SEAT-D2
ROJO SOBERANO MET.
S3W
2002 - 2002
Kit2-SEAT-S3W
SPRINT BLUE MET.
5N/1
2009 - 2013
Kit2-SEAT-5N/1
SPRINT/SPEED BLUE MET.
Z5F
2010 - 2012
Kit2-VCD-SEAT-Z5F
TECHNIC GREY MET
S7K
2013 - 2015
Kit2-VCD-SEAT-S7K
TIMANFAYA GREY MET.
W8Z
2015 - 2015
Kit2-SEAT-W8Z
TITANIUM MET. (SPECCHIO)
LCK7
2015 - 2015
Kit2-SEAT-LCK7
TOSSABLAU MET.
A5R
2014 - 2014
Kit2-VCD-SEAT-A5R
TRIBU GOLD MET
S1W
2012 - 2012
Kit2-VCD-SEAT-S1W
TRIBU MET
8R
2010 - 2010
Kit2-VCD-SEAT-8R
VERDE ALMENDRO MET.
S6Z
2000 - 2000
Kit2-VCD-SEAT-S6Z
VERDE FRESCO MET.
S6R/03
2005 - 2005
Kit2-SEAT-S6R/03
VERDE FRESCO MET.
S6R
2005 - 2005
Kit2-VCD-SEAT-S6R
VERDE JUNCO MET.( VEDI SEAT - 335 )
S6Q
1995 - 2014
Kit2-VCD-SEAT-S6Q
VERDE KIWI
S6E
2008 - 2012
Kit2-VCD-SEAT-S6E
VERDE LIMA MET.
I3
2012 - 2015
Kit2-VCD-SEAT-I3
VERDE MERLIN MET.
S6N/01
2002 - 2007
Kit2-SEAT-S6N/01
VERDE MERLIN MET.
S6N
2003 - 2007
Kit2-VCD-SEAT-S6N
VERDE MERLIN MET.
N6
2002 - 2002
Kit2-VCD-SEAT-S6N
VERDE NATURA MET.
W6X
2006 - 2008
Kit2-VCD-SEAT-W6X
VERDE PINO MET.
5N
2000 - 2013
Kit2-VCD-SEAT-5N
VERDE VIBRANTE MET.
S6X
2000 - 2002
Kit2-VCD-SEAT-S6X
VERDE YUCA MET.
S6T
2000 - 2003
Kit2-VCD-SEAT-S6T
Technical Details
Last Update: Jan 25, 2020 - Views: 24464453