Last Update:
24 Novembre, 2018
RENAULT Touch Up paint: Spray Paint for R4 in metallic colour 647/84 TITANE MET. "ESPACE" (COLORE P.URTI=R-8
Descrizione
RENAULT Custom Paint NextColor in Metallic and Pearl Colours for model R4 is a very quality production by VerniciSpray: we produce it according to customers' requests to offer him the original colour of his car, that is 647/84 TITANE MET. "ESPACE" (COLORE P.URTI=R-8 in this case. Thanks to this customisation, our car paint is ideal for touch up of car and motorbike's bodywork. The paint composition is defined at the time of purchase and then it is written on the label of the spray paint for RENAULT R4. You can find easily your car colour code thanks to our guide. (See on the right)
Double Coat: the metallic or pearl colours have matt finish, so this kind of paint needs 1K Gloss Clear Coat, for a professional and more brilliant result we suggest one of our 2K High Gloss Clear Coats. If you want more information about our Protective Lacquer, look at our Short Guide.
One spraycan covers a surface about 1-2 mq wide.
Small colour differences are possible. Use with care.
Instructions for Use: Clean carefully the surface before painting. Shake well for some minutes. Spray paint's temperature must be at 20°/25°C. Spray the product on the surface to be painted in an uniform way at about 20-25 cm distance. To prevent leaking, we recommend to spray the enamel in thin layers, repeating the action with time intervals, if necessary. For a sure excellent coverage, the use of the handle MAGNUM is recommended: it lets spread the paint with more precision. Available in Metallic and Pearl Colours. Remove the paint with acetone and/or nitro thinner.
Spray can 400 ml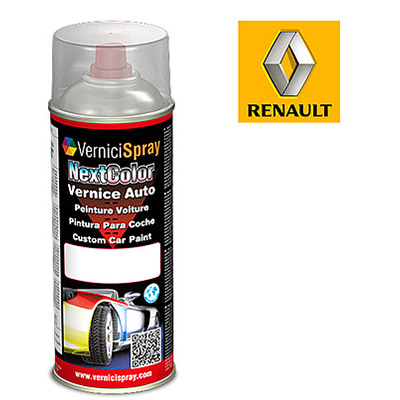 647/84 TITANE MET. "ESPACE" (COLORE P.URTI=R-8
Available in different formats
Select the Colour you need
RENAULT

Color Chart Car Model:

R4

Please enter a valid email address.
Original Colour Code
Year
Product code
ALPACA -ESPANA-
109
1987 - 1991
VC-R-109
BEIGE CAMARQUE (COMM) (PAG.399/MAZ.2)
139
1993 - 1993
VC-R-139
BLANC (PAG.356/VOL.3)
389/90
1990 - 1993
VC-R-389/90
BLANC GARDENIA
495
1993 - 1993
VC-R-495
BLEU LUMIERE MET.
495/86
1993 - 1993
VCD-R-495/86
BLU OZONE MET.
468
1990 - 1993
VCD-R-468
GRIS ICEBERG MET. (P.URTI = 640/1 )
640/90
1990 - 1994
VCD-R-640/90
GRIS SUEDE
640
1990 - 1994
VC-R-640
JAUNE VANILLE "ESPACE" -VEDI REN.8429-
305/88
1990 - 1990
VC-R-305/88
ORANGE
389
1990 - 1993
VC-R-389
ROUGE (P.URTI= 630 - 20523)PAG.357/VOL.3
719
1987 - 1994
VC-R-719
ROUGE BRIQUE
771
1990 - 1993
VC-R-771
TITANE MET. "ESPACE" (COLORE P.URTI=R-8
647/84
1987 - 1990
VCD-R-647/84
VERT
963
1992 - 1992
VC-R-963
VERT ANGLAIS MET.
963/93
1992 - 1992
VCD-R-963/93
VERT NACRE MET.
968
1991 - 1991
VCD-R-968
VERT SEQUIOIA
996
1991 - 1994
VC-R-996
Technical Details
Last Update: Apr 3, 2020 - Views: 72106872