RAL K7 Classic - Colour Fan Deck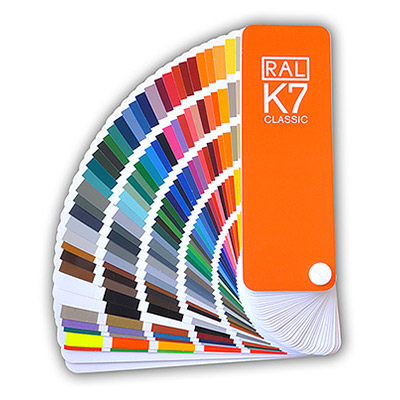 Product code: RK7
EAN: 8052131643993
Pack:
Availability: Good
Unit price: 17.20 €without VAT
20.98 €
VAT included
Valid until: 31-08-2021
Add to Cart
---
2K Polyurethane Spray Paints in RAL colours
---
Product Description
RAL is a colour standard used in Europe. It is an important colour matching system to refer to colours in many fields such as industry, design, mechanics, architecture and for many other kinds of application. The collection RAL K7 contains 213 classic RAL colours. In this useful fan deck, you can see five Ral in every page, that's perfect to see the real colour: we can prepare paints in all the 213 RAL colours K7. In particular, it is possible to choose between our 2k Polyurethane Spray Paints and nitro paints 1k that you can ask us in every ral colour, both with gloss and matt finish.
The distinctive feature of paints produced by VerniciSpray is that all the colours are always available because we prepare the paints at the moment of your purchase: it is certainly a gret thing to have such a wide range to choose, especially if we talk about matt ral colours, which are the most difficult to find for sale.
MAIN FEATURES:
- Five colours per page
- Fan deck size 5.0 x 15.0 cm (colour illustration: 2.0 x 5.0 cm)
- Gloss Finish
Technical Details
pz: 1
---
---
Related Products
Polyurethane paint in spray can: it is a 2K paint to be activated at the moment of use. Available in Gloss RAL colours. The next generation paint

25.99 €VAT included

Gloss Nitro paint in spraycan, available in all RAL colours, best resistance, coverage, brilliance and fast drying. Always available

15.25 €VAT included

1K acrylic paint with high level of gloss and excellent anchoring power on plastics, without a primer, even the most difficult PVC and PP. Available in all RAL colours

15.25 €VAT included
Last Update: Mar 30, 2021
Views: 39238
---
Comments
What writes who has bought this product


Marco


Evangelista
ottimo prodotti...
ottimo prodotti qualità e cortesia +++++++++++++++++++++
Products purchased


Donato
Ottimo erogatore...
Ottimo erogatore. Pressione della bomboletta molto buona fino ad esaurimento del contenuto.
Products purchased


Onkart
Azienda seria...
Azienda seria, onesta e veloce nella spedizione. Prodotti di qualità.
Products purchased


PASCAL
De très bons...
De très bons produits envoyés rapidement. Les teintes sont bonnes et la tenue aussi. Un bon très rapport qualité/prix.
Products purchased
---