MULTI BRILL - Vinyl, plastic and rubber Reviver and Protector by RIWAX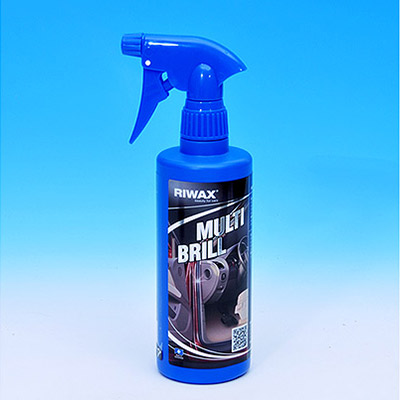 Product code: RW-BRIL-500
EAN: 8052131651868
Pack:
Availability: Good
Unit price: 14.20 €without VAT
17.32 €
VAT included
Valid until: 31-03-2021
Add to Cart
---
Rubbing and Polishing compounds for car body and tyres
---
Product Description
MULTI BRILL is a well known product by RIWAX. It is a cleaner for all automotive vinyl, plastic and rubber surfaces, this reviver enhances the appearance of surfaces and protects from UV light. It is a cleaning and refurbishing agent and preservative all in one, ideal for blackening car tyres, vinyl roofs, black grilles, exterior mirrors, molding, plastics of all types, rubber door seals.
It is a reviver formulated for car exterior valeting, but it is good even to clean, polish and protect the interiors, such as dashboards, briar coatings, car seats leatherette, synthetic coatings, rubber floor mats, door panels. It is important not to apply on steering wheel, gear lever and pedals.
Moreover, it is perfect for engine preservation, in fact it is a perfect cleaner even for the engine compartment hoses: Multi Brill can be sprayed inside the engine hood after washing, in this way it keeps flexible the rubber sleeves, the plastic parts and electrical cables, making easier the next washing.
This cleaner for car valeting dries quickly, without producing grease on the treated surface that remain non-tacky. The good scent eliminates all bad odors and gives the interior a pleasant sense of fresh and clean.
How to use: apply the cleaning product with a sponge or a microfibre cloth and rub.


RIWAX Multi Brill restores, polish and protect every synthetic surface.
Technical Details
ml:: 500
---
---
Related Products
Microfibre cloth ideal for cleaning and polishing delicate surfaces such as car bodywork and interiors. Also perfect for motorbikes and boating

3.90 €VAT included
Last Update: Mar 30, 2021
Views: 13397
---
Comments
What writes who has bought this product


Giovanni Luigi Maria
Prodotti eccellenti...
Prodotti eccellenti ( un pò cari ........ ), spedizione velocissima. Perfetto.
Products purchased


STEFANO
PRODOTTO BEN...
PRODOTTO BEN ILLUSTRATO E CORRISPONDENTE A QUELLO DEL SITO, CON BUONE INDICAZIONI SULL'USO. SITO FACILE DA NAVIGARE. TEMPI DI CONSEGNA PERFETTI. DIFETTI: NESSUNO
Products purchased


Sandro


Riccardo


Maurizio


DANIELE
Ottima vernice...
Ottima vernice. Facile da dare. Buonissimo anche il polis. ...spedizioni rapidissime
Products purchased
---