Heat-Resistant Spray Paint: up to 800°C Black High Temperature
Spray can 400 ml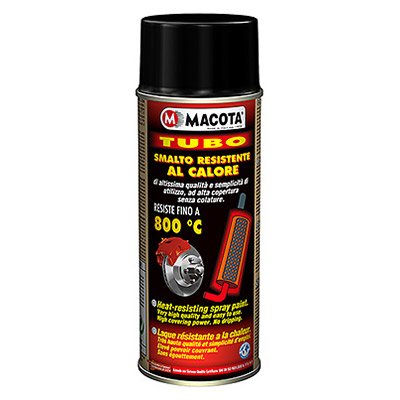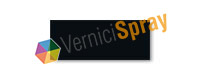 Black High Temperature
Other Colours
Product code: 08008
EAN: 8052131634199
Pack: Spray can 400 ml
Finish: Black High Temperature
Availability: Good
Unit price: 10.20 € 9.18 €without VAT
11.02 €
VAT included
Valid until: 31-08-2021
Add to Cart
---
Heat-Resistant Paints - High Temperature Paint
---
Product Description
Heat-resisting Spray Paint, up to 800°C. Ideal for silencers, drainpipes, engines, boilers, heaters, firescreen, etc. Clean the surface carefully before painting. Available in 8 colours (black, white, blue, red, yellow, transparent, gold, silver), for high temperature. High temeprature spray paint without compromise.
N.B. The chromatic resistance for colors (excluding black) is guaranteed up to 250-300°C, above this temperature you can have a color change, despite the fact that the paint remains on the surface.
Technical Details
ml: 400
Technical Details and Useful suggests: High temperature paint ideal both in car and motorbike applications for painting of silencers, brakes and collectors, however applications where is required an high temperature resistance, and in other applications such as the painting of heaters, ovens, fireplaces, barbecue, boilers, etc. The high temperature paint has a formulation based on silicone, after be dry, it doesn't set on fire.All Heat resistant paints.
---
---
Other Colours
Select the Colour you need
Black High Temperature

08008
---
Related Products
Special paint heat resistant for high temperatures up to 800°C - 200 ml.

8.76 €VAT included

Professional spray nozzle for spray paints, it works with any spray cans

7.44 €VAT included

Cast Iron Spray Paint heat resistant, for high temperatures up to 600°C for stoves, fireplace, etc.

13.56 €VAT included
Last Update: Sep 8, 2021
Views: 343137
---
Comments
What writes who has bought this product


Roger


Andrea
Prodotto molto...
Prodotto molto buono e servizio spedizione velocissimo.
Products purchased


jean claude
PRODUITS DE ...
PRODUITS DE QUALITE ,LIVRAISON RAPIDE,TRES BON SUIVI DE COMMANDE
Products purchased


Yolanda
La atención ...
La atención por su parte ha sido excepcional, hubo un error por nuestra parte en la adquisición y lo solucionaron en cuestión de segundos¡¡, muchas gracias por todo, volveremos a comprar fijo.
Products purchased


Elia
servizio ineccepibile...
servizio ineccepibile vernici di qualità ottima
Products purchased


Damiano


Simone
Ho preso un ...
Ho preso un il fondo ad alta temperatura 700° e la vernice alta temperatura 800° per marmitte. Tutto è andato semplicemente come ci si aspetta, senza alcun intoppo. Domanda, ordine, ricezione della spedizione, da un giorno all'altro. Fondo e vernice per marmitta in combinazione sono fantastici, il collettore di scarico della mia moto è come nuovo e il colore tiene anche vicino al motore. Grazie e alla prossima
Products purchased


david
super tres bon...
super tres bon produit tres belle finition, je suis tres satisfait de ces aerosol et les recommande, l'appret epoxy cache meme les petits defauts,
Products purchased


philippe
Satisfait de...
Satisfait de mon achat, pour la qualité de résistance de la peinture il est trop tôt pour me prononcer. Merci de vous inquiéter comment vous améliorer.
Products purchased


Alessandro
Consegna rapidissima... Ho provato i...
Consegna rapidissima (primo pomeriggio successivo all'ordine) Ho provato i prodotti pochi giorni fa su alcuni piccoli particolari e la qualità è ottima. Molto soddisfatto.
Products purchased
---