Last Update
25 Giugno, 2018
1k spray primer undercoat filler putty
Here you can find all our spray automotive primers, they are all 1k spray. Among these you have primer, undercoat, filler or putty ideal in case you need a good product but in the handy spray format, wit the possibility to reuse it over time, for a small car touch up to the body for example.
Automotive body painting is not the only application area of these sprays, also useful for other types of DIY, nautical or industry.
In this products category, we put a focus on the new NextPrimer, a VerniciSpray production, formulated to give an excellent adhesion even on bare metal. We underline the importance of choosing an undercoat with a similar colour to the next painting, to save on the paint and get an optimum coverage: that's why we produce NextPrimer in many different colours.
About us...
The product is excellent. Delivered quickly.
Jul 12, 2018

Visitors Online: 85
Our couriers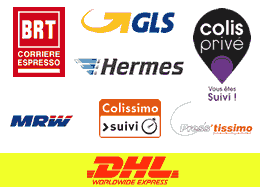 SECURE PAYMENTS