Headlight Lens Restoration system and other Polycarbonate surfaces - 3M
Product code: 3M_FANALI
EAN: 8052131637954
Pack: Blister
Availability: Good
Unit price: 29.20 €without VAT
35.04 €
VAT included
Valid until: 31-12-2021
Add to Cart
---
Restoration Kit for Polycarbonate Headlights Fibreglass Surfaces and other accessories
---
Product Description
The HEADLIGHT LENS RESTORATION SYSTEM has very high performances: it is designed to restore clarity to headlight lenses of cars and motorbikes that have become yellowed, cloudy, or hazed over time. By returning clearness to the lens, the performance of the headlight is improved so you enhance the visibility. Then we can even say that the appearance of the car is improved, because this useful kit gives you back "like new" headlights.
WHEN THE KIT IS USEFUL: The kit is useful not only with car and motorbike headlight lenses of, but even with every polycarbonate surface, such as visors of helmets, surfaces of yachts and boats. The kit works with every polycarbonate surface that is yellowed and/or cloudy due to age and weathering.
WHEN THE KIT IS USELESS: You do not need the kit if you want to remove moisture, damages or defects inside the headlight lens.
The process consists of four simple steps: Preparing the lens and the drill, Removal of the yellowed layer and defect, Reducing sand scratches and finally Polishing the lens. Remember that you need a drill not included in the kit: we mean a standard household drill (1200-1600 rpm), not higher and not lower.
To understand the details of the process, we suggest to watch the video below, where they explain very clearly every step. Then in the package you will find illustrated instructions for the use of every item of the kit.
The package contains:
- 1 Automotive Masking Tape 3M
- 1 Disc Pad Holder
- 1 Headlight Lens Polish, 1 oz (Rubbing Compound)
- 1 Orange Foam Compounding Pad
- 6 Sanding Discs (P500)
- 4 Finishing Discs( P800)
- 1 Trizact Disc (P3000)
Drill not included.
REMEMBER THAT THE KIT IS DESIGNED TO RENOVATE HEADLIGHT LENS AND OTHER POLYCARBONATE SURFACES: DO NOT USE ON GLASS HEADLIGHTS.
Technical Details
Kit: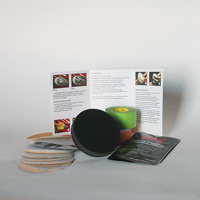 Technical Details and Useful suggests: Check it out the amazing result you can get thanks to this Headlight Lens Restoration System and the way to use it. Watch the video (audio in English):


---
Last Update: Jun 8, 2021
Views: 35264
---
Comments
The reviews of those who bought this product


Alessandro
tutto ok! buoni... Gentilezza e... Alessandro
tutto ok! buoni prodotti ottima comunicazione e velocità in chat e via email Gentilezza e professionalità Alessandro
Products purchased


jose miguel


Antonio Luciano


Roberto
Ottimi prodotti...
Ottimi prodotti, e' gia' la seconda volta che acquisto bombolette bicomponenti 2k e penso che non sara' l'ultima. Sono prodotti costosi ma se volete una verniciatura di qualita' ne vale sicuramente la pena.
Products purchased


simone
Buongiorno
Buongiorno,sono molto soddisfatto dell qualità del prodotto. l'unica osservazione che posso fare è che sulla scelta del colore della bomboletta ,sulla videata , sarebbe bello che l'immagine relativa a quel ral si potesse ingrandire per capire meglio la tonalità che si sta osservando. grazie .
Products purchased


Ennio


Natale


Paulo
All instructions... Best regards...
All instructions of the products should be at least in English. The 3M_FANALI Pack instructions were only in Italian. Best regards,
Products purchased


Moris
Ho trovato un...
Ho trovato un bell' assortimento di colori e tanto altro materiale che oramai è difficile da reperire nei normali negozi, il tutto a prezzo ottimi direi.
Products purchased


laurent
Parfait
Parfait, tout a fait conforme a la commande et reçu en temps et en heures.
Products purchased
---