No Edge Blending Tape for automotive painting 5 metres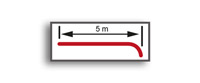 5 metres
More formats
Product code: 950-5
EAN: 8052131656221
Pack:
Finish: 5 metres Foam Masking Tape
Availability: Good
Unit price: 13.50 €without VAT
16.47 €
VAT included
Valid until: 31-03-2021
Add to Cart
---
Masking paper tapes and pre-taped masking film
---
Product Description
No Edge Blending Tape is a special foam masking tape that allows perfect painting without hard paint lines and lets you achieve a seamless transition from old to new paintwork, saving time in the correction of paint defects.
It is ideal for masking car door jambs, bonnet and bumper, trunk and side panels or body curves. In this way it is possible to avoid any gaps between the old and the new paint, which is very important when we make a touch up, because when the limits of the repair are marked, the retouch becomes very visible in the body, this is the main cause of unsuccessful work.
How it works: the tape is adhesive only in the central part and spongy on the sides, so the paint can pass through in part, but not completely, this creates the effect of the fading. In this way you can get a seamless blending of new paint work into old.

A great help in automotive touch up: the hard paint edges are the most common reason for a bad paintwork, so this foam masking tape if used correctly could become a great help to mask the parts to be painted but we insist on being careful and never use it as the final delimitation of the touch up. In fact, even if it is a foam tape and not a normal adhesive tape, it is recommended to always put it a little far from the paint reparation to be done, in order to obtain also the natural blending of the paint (especially when we talk of the paint colour and not clear coat). In case of clear coats (or lacquers) there is less risk of creating a marked gap and this No Edge Blending Tape can also be put as the final line of the touch up.

No Edge Blending Masking Tape is resistant to a temperature of 110 ° C, also usable with infrared dryer.
Technical Details
pz: 1
---
---
More formats
Choose the format you need
5 metres Foam Masking Tape

950-5
---
Related Products
Direct Gloss Paint in spray for touch up. All solid colours (not metallic) for every car model. To repair scratches on bodywork

16.71 €VAT included

Automotive Spraycan in all metallic colours and pearl, double coat paints with high covering power to repair scratches on bodywork in car manufacturer colors

26.39 €VAT included
Last Update: Mar 30, 2021
Views: 8696
---
Comments
What writes who has bought this product


Maurizio
---
The comments of those who bought this product but in a different color


Claudio
I prodotti acquistati sono veramente ottimi e professionali. Tutto il procedimento di acquisto e spedizione si č svolto in maniera perfetta.
Products purchased


Nicolo
Il trasparente 1k, malgrado sia venduto come equivalente al 2k, non offre gli stessi risultati in termini di lucentezza e texture finale. Ho dovuto acquistare una vernice bicomponente per ultimare il lavoro. A parte questo, la vernice acquistata č perfettamente identica all'originale.
Products purchased


Alessandro
tutto ok! buoni prodotti ottima comunicazione e velocitą in chat e via email Gentilezza e professionalitą Alessandro
Products purchased


Tommaso


Dario
Rapidi e precisi, vernici ben imballate, sono rimasto molto soddisfatto
Products purchased


Alberto