NextPrimer - Automotive Primer Spray anti-rust and anchoring for aluminium and sheet Aparejo RAL 1001 Beige
1K Spray Primer, Undercoat, Filler, Putty
Spray can 400 ml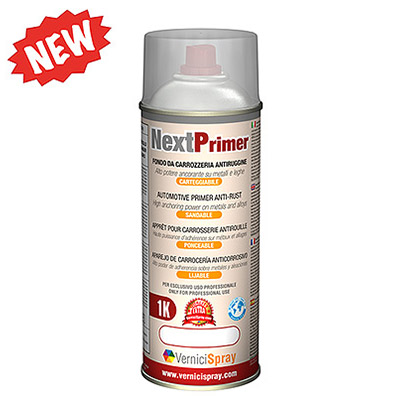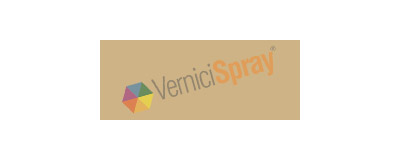 Aparejo RAL 1001 Beige
Other Colours
Product code: NP1001
EAN: 8052131652094
Pack: Spray can 400 ml
Availability: Good
Unit price: 9.50 €without VAT
11.40 €
VAT included
Valid until: 30-06-2022
Add to Cart
---
Product Description
NextPrimer is the sandable automotive primer produced by VerniciSpray. Ideal for car touch up but also for industrial painting, NextPrimer ensures a good insulation as spray anti-rust primer but also it's an excellent anchoring on difficult surfaces such as aluminum, galvanized sheets and all unpainted metals. Even if it is a 1K primer, it has a high adhesion on metal, so it could be a good alternative to a 2K epoxy primer. It can be applied on old paint too, when you have sanded and made it matt with thin abrasive paper.
This car primer spray has a slow drying (complete drying 24H) and we must underline that it is not a defect, as it is generally thought: in fact, this feature guarantees a much better adhesion than others quick drying primers because a slow drying ensures to the undercoat a greater stability and a higher self-leveling power than fast drying primers. This ensures a great fixing power, giving you uniform and smooth surfaces, ready for overcoating.

We recommend to choose the primer in the most similar colour to the next paint, that's why we produce NextPrimer in many RAL colours. It is a fundamental aspect that is often overlooked: to use an undercoat colour similar to the paint, can be of great help for a successful painting work and it allows you to save on the paint that will be aesthetically more uniform even with less coats. Apply one less coat of paint also lets you get less thickness, to avoid horrible gaps between old and new paint.
Sanding is not essential, but, if necessary, we recommend to sand the NextPrimer after 24-48 hours, making sure first that the primer is completely dry in depth. However, you can repaint after 24 hours.

The antirust primer can be overcoated with all of our Car Custom Paints and our coatings in RAL colours, both NextNitro and NextRal, in fact it is suitable for car body touch up and for other kinds of painting like DIY or professional.

N.B.: The RAL colours of NextPrimer may differ slightly from RAL standards, as it is a primer and not a paint.
Technical Details
ml: 400
Technical Details and Useful suggests: Drying time (at 20°C and 60% RH):
- dry dust free 15 min
- dry to the touch 30 min
- dry in depth 24 hours

Application: 2 coats at about 10-15 min
Sanding: if necessary, after 24-48 hours
Repaintable: after about 24 hours
Surfaces: old paint, aluminium, sheet, galvanized sheet, metals.
Last Update: Mar 30, 2021, Views: 125677
---
Comments
The reviews of those who bought this product
---