NextReflect Reflective Paint - Silver finish 100 ml
Availability: Good
Unit price: 13.30 €without VAT
15.96 €
VAT included
Valid until: 31-12-2021
Add to Cart
---
Reflective Paint and Pigment in powder
---
Product Description
NEXTREFLECT Silver is a high quality Reflective Paint in silver finish. We produce it with the best reflective pigment: it has been selected among the wide range available in the world market.
The paint appears semi-transparent greyish coloured, but when a beam of light hits it, the light is reflected back to its source: that is the retroreflectivity effect. In this way, the painted surface becomes more visible in the dark when it is lighted with a beam.
Application Fields: The Retroreflectivity is often a very important property in the field of safety. For example, reflective surfaces can be useful to warn of an obstacle in not much lighted places, to paint signs on clothes to make more visible people if they have to stay in dark areas, for the bike to make it more visible to the drivers, for road safety or for signals in general. Using the reflective product as paint, you can apply it on every kind of surface with more freedom in the application. And moreover the reflective surface has a long life, because it is like a normal painted surface. The application of the reflective paint can be with brush or spraying. In this case you can try our Spray Gun, the Professional Portable Sprayer.
Composition:: The Silver Reflective Paint is acrylic and solvent based. It contains reflective pigment composed of glass beads with 95% roundess and a Refractive index of 2,2 Nd. The glass beads contained in the Silver Reflective Paint are even aluminium coated, so they guarantee higher performance in light refraction. The reflective pigment we use is very fine, it has about 35-50 micron grain, so the painted surfaces are smooth enough.

High resistance and high gripping power: you can get Retroreflectivity on every normal surface, included most plastic materials.

INCLUDED IN THE PACKAGE: Plyurethane Thinner to dilute the Reflective Paint. Useful for spray application. We suggest a dilution ratio in weight of 10-30 (thinner) to 100 (paint). And a small measuring glass.
Technical Details
ml: 100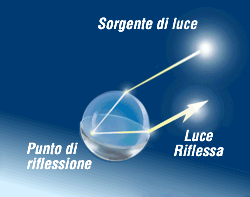 Technical Details and Useful suggests: Silver Reflective Paint composition and properties:

- Base: Acrylic, solvent
- Pigment: 35 - 50 micron (contains aluminium coated glass beads)
- Glass beads roundness: 95%
- Refractive Index: 2,2 Nd
---
Last Update: Sep 7, 2021
Views: 27093
---
Comments
The reviews of those who bought this product


lorenzo


Antonello


Giacomolupo


enzo
sono stato molto...
sono stato molto contento dei vosti prodotti e di tutto il servizio. Grazie e ...a presto
Products purchased


Pablo


Valter
OTTIMO PRODOTTO...
OTTIMO PRODOTTO. IDEALE PER L'UNICO ED OTTIMO RISULTATO LA STAZIONE SPRAY PORTATILE, ALTRIMENTI A PENNELLO RISULTA ALQUANTO DIFFORME LO STRATO CATARIFRANGENTE.-
Products purchased


Luca
la vernice catarifrangente...
la vernice catarifrangente, la vernice fosforescente e la lampada di wood hanno pienamente soddisfatto le aspettative, Le istruzioni di applicazione delle vernici dettagliate hanno permesso il massimo rendimento.
Products purchased


guido leonardo
Buon prodotto...
Buon prodotto,costi di spedizione alti,ottimi assistenza e tempi di spedizione.
Products purchased


Alberto
Ho miscelato...
Ho miscelato 8 parti di vernice fosforescente, con 2 parti di vernice catarinfrangente, ottenendo una vernice tanto catarifrangente, quanto fosforescente. Ci vuole un giorno perchè si asciughi perfettamente e le sfere vengano in superficie ma il risultato è perfetto, grazie soprattutto alle vostre spettacolari vernici. Grazie ancora, Saluti.
Products purchased


FRANCESCA
Abbiamo acquistato...
Abbiamo acquistato il prodotto per rendere più visibile una salienza (gradino) alta 10 cm e lunga 12 metri sul pavimento della nostra terrazza ma, pur avendo seguito scrupolosamente i vostri consigli su quantità e diluizione del prodotto, l'effetto catarifrangente si ottiene (parzialmente) solo nelle prime ore del mattino e da una certa angolazione (non frontalmente). Sembra funzionare solo con una fortissima luce alle spalle (un'illuminazione media non da luogo ad alcuna rifrazione). Sarebbe impegnativo oltre che oneroso installare dei riflettori nella speranza di avere qualche risultato. Forse sarebbe stata utile una vostra nota sui limiti di applicazione della vernice e/o gli elementi complementari indispensabili al suo funzionamento.
Products purchased
---