NextReflect Reflective Pigment in powder- Silver 28 gr
Availability: Good
Unit price: 8.50 €without VAT
10.20 €
VAT included
Valid until: 31-05-2022
Add to Cart
---
Reflective Paint and Pigment in powder
---
Product Description
In the NEXTREFLECT Line you can fin even the Silver Reflective Pigment in powder. It is the best glass beads powder in silver finish in the world market, selected among the best ones. The package contains 28 gr of Reflective Pigment in powder, it has a whitish to grey colour in the light. When a beam of light lights it in the dark, the reflective pigment reflects the light back to its source: that is the Retroreflectivity effect.
Examples of ways to use it: The possibility to buy only the reflective pigment in powder instead of the ready reflective paint, lets you use the glass beads powder as you need. These are three ways to use the reflective pigment:
you can mix the reflective powder with other substances, to make them become own reflective, so that they will reflect light exactly as if you had applied reflective paint on them.
you can throw the glass beads powder directly on a just painted surface so that the reflective pigment powder adheres to it and makes it reflective.
you can add the reflective pigment to one of our Reflective Paint, so that the concentration of glass beads powder increases and retroreflectivity is more powerful.

Anyway the fields of application are the same as the reflective paint: the safety in general, the signaling of objects in dark places and of people with safety purpose, the road safety and clothes.

Composition:: The Silver Reflective Pigment is composed of glass beads with 95% roundess and Refractive index of 2,2 Nd. The glass beads contained in the silver reflective are even aluminium coated, so they guarantee the highest performance in light refraction. The grain size of our pigment is about 35-50 micron, in fact it is very fine.


Technical Details
gr: 28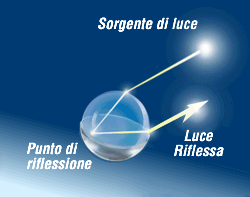 Technical Details and Useful suggests: Silver Reflective Pigment composition and properties:

- Grain size: 35 - 50 micron (contains aluminium coated glass beads)
- Glass beads roundness: 95%
- Refractive Index: 2,2 Nd
---
Last Update: Sep 3, 2021
Views: 29194
---
Comments
The reviews of those who bought this product

Alessandro

michel

Valentina

Massimiliano

Alfonsino
Se questo prodotto...
Se questo prodotto nel tempo e per l'esposizione alle intemperie non si altera è veramente ottimo
Products purchased

Pablo

Valter
OTTIMO PRODOTTO...
OTTIMO PRODOTTO SOLO SE ABBINATO ALLA STAZIONE PORTATILE SPRAY GUN. ECCELLENTE RISULTATO.-
Products purchased

alessandro

Louise
Consegna velocissima...
Consegna velocissima, assistenza on line utile, prodotti di buona qualità
Products purchased

Sergio
---