Microfiber cloth WYPALL by Kimberly-Clark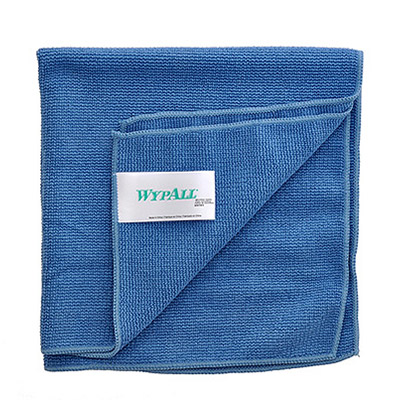 Product code: WP8395
EAN: 8052131651974
Pack:
Availability: Good
Unit price: 3.20 € 2.88 €without VAT
3.46 €
VAT included
Valid until: 31-12-2021
Add to Cart
---
Rubbing and Polishing compounds for car body and tyres
---
Product Description
Microfiber cleaning cloth helps remove dust and dirt from bodywork, glass and other surfaces without scratching. WYPALL cloth can be used wet, damp, or dry for a variety of cleaning in fact you can polish and clean even without chemical cleaners: ideal for car polishing (even car interior), motorbike, boating.
Maintains features for 300 launderings (with air drying).
Size: 40x40 cm.
---
---
Related Products
Cleaner, reviver and preservative all in one for car rubber and plastic. A product by RIWAX, ideal for blackening car tyres, exterior mirrors, bumpers but even for interiors (dashboards, car seats leatherette, rubber floor mats...)

17.04 €VAT included

The necessary cleaner to prepare surfaces for painting: removes all the traces of silicone that are often on the bodywork

17.88 €VAT included
Last Update: Mar 30, 2021
Views: 23888
---
Comments
The reviews of those who bought this product


SAVERIO


carlo amedeo
Tutto ok prodotto...
Tutto ok prodotto validissimo e perfetto nella descrizione ottimo.
Products purchased


mario
Bungiorno
Bungiorno, sono senza commento..solamente vi poso dire un grande grazie. ho ricevuto dei prodotti che mi hano soddisfatto...
Products purchased


Henri
Entièrement ... Merci
Entièrement satisfait par les produits de très haute qualité Merci
Products purchased


Claudio
Perfetto veri...
Perfetto veri professionisti e veloci nella spedizione! Come un cliente vorrebbe che sia un venditore complimenti.
Products purchased


FERNANDO
Todo correcto...
Todo correcto,tanto precios como servicio. Los colores perfectos.
Products purchased


STEFANO
PRODOTTO BEN...
PRODOTTO BEN ILLUSTRATO E CORRISPONDENTE A QUELLO DEL SITO, CON BUONE INDICAZIONI SULL'USO. SITO FACILE DA NAVIGARE. TEMPI DI CONSEGNA PERFETTI. DIFETTI: NESSUNO
Products purchased


Claire
Très bon site...
Très bon site où l'on trouve des produits de qualité. Envoi très rapide. Le service export est à l'écoute et très réactif. Merci à toute l'équipe. Je recommande sans hésiter. Claire
Products purchased


Bernard
Bonjour
Bonjour, tout est parfait, conforme à mes attentes de commande. Merci à toute l'équipe
Products purchased


charly
---