NextRal 2k Polyurethane Spray Paint in Gloss RAL colours Pure white
2k Spray can 400 ml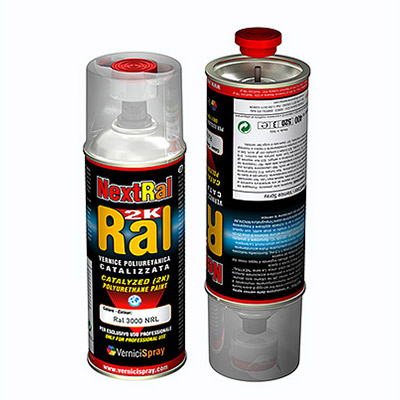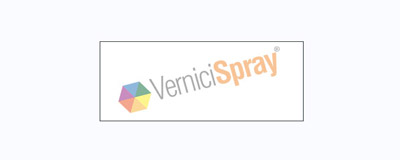 Pure white
Other Colours
Product code: NRL0194
EAN: 8052131640008
Pack: 2k Spray can 400 ml
Finish: Pure white
Availability: Good
Unit price: 21.30 €without VAT
25.56 €
VAT included
Valid until: 31-12-2021
Add to Cart
---
Available in different formats Pure white
2K Polyurethane Spray Paints in RAL colours
---
Product Description
The Spray Paints NextRal are the last goal in the spray paint evolution: the limit of 1k in the paints has been overcome, the new spray paints are 2k. Our 2k paints are polyurethane based and have better properties than the common paints: in fact the catalyzed polyurethane paints have a high UV rays, chimical and oil products resistance. They guarantee bright colours with no yellowing and combine toughness and elasticity. In the NextRAL Line, the 2k Paints in spray can are available in more than 200 RAL colours with gloss or matt finish: the finish of this item is gloss. The two-component polyurethane Paints have higher quality than the common 1k paints, so they are considered for professional use, but they are useful even for who need a very resistant paint in the field of automotive or for motorbikes or even to paint wood surfaces.
INSTRUCTIONS FOR USE: How the 2k Paint must be activated
This is a two-component polyurethane paint so it must be activated with its catalyst (paint and catalyst are inside the spray can). To begin the catalyst process, remove the red plastic button from the cap of the spray can. Turn the spray can upside down and press hard the red button in the stem on the bottom of the can. Now shake the spray can very well to make the catalyst dissolve completely. The polyurethane paint is ready to be used now. REMEMBER: Before the application of the 2k paint, you must have a primer on the surface (it can be even the old paint), you can choose among our range of primers and fixative. The best one you can use is a catalyzed epoxy primer, which anchors to every material (all the metals, wood and some plastic surfaces). We recommend to use this 2k epoxy primer if you need the best result.
Attention: This is a 2k paint to be activated at the moment of use, so it must be applied within a short time period from the activation (about 6-7 hours). For the drying time, look at the Technical Details below.

Possible application Fields: car bodywork, motorbike frame, wood surfaces and any other application that requires resistant and elastic paint.

2k Paints are 50 times better than the 1k ones!
Technical Details
ml: 400
Technical Details and Useful suggests: Drying time (at 20°C and 60% RH):
- dry dust free 30 min
- dry to the touch 60 min
- dry in depth and complete crosslinking 48 hours
---
---
Other Colours
Select the Colour you need
---
Related Products
Last Update: Sep 29, 2021
Views: 1553828
---
Comments
The reviews of those who bought this product


Narciso
Tutto ok?. Ritardo...
Tutto ok?. Ritardo nell?arrivo della merce NON PER COLPA DEL VENDITORE MA DEL CORRIERE DI SPEDIZIONE. La Ditta invece MOLTO SOLLECITA , CORDIALE ED EFFICACE NEL RISOLVERE IL PROBLEMA. Grazie
Products purchased


Domenico
Ottimo prodotto...
Ottimo prodotto per aeromodellismo, resistente alle miscele nitrate
Products purchased


david
Sarebbe bello...
Sarebbe bello avere anche le bombolette 2K con formato più piccolo delle standard
Products purchased


Luca
Bellissime vernici...
Bellissime vernici spray professionali, molto buone
Products purchased


Enio


Ferdinando
Vernice perfettamente...
Vernice perfettamente uguale all'originale.mi è stato consigliato la mano di lucido ma sinceramente solo la sua era già lucida in partenza..per il resto tutto ok
Products purchased


Mauro
Cortesi e disponibili...
Cortesi e disponibili,staff pronto ad ogni richiesta, prodotto ottimo e professionale di qualità, spedizioni celeri senza intoppi, consigliato.
Products purchased


Mauro
Cordiali dal...
Cordiali dal momento dell'acquisto alla consegna personale preparato è sempre disponibile.
Products purchased


Vincenzo


Eric
Bonjour
Bonjour, J'utilise cette peinture pour ma ford MK2 et me donne vraiment satisfaction. Je voulais vous demandez si vous la produisiez en pot bi-composant? En effet j'aimerais l'avoir dans cette version pour un usage multiples. Un spray bi est prêt à l emploi dès l'amorce, donc perdue si vous n'unitisez pas toute la quantité. Merci énormément pour le rapport qualité prix
Products purchased
---