Phosphorescent Pigment high performance: more than 12 hours of light. for many purposes. microns 75 gr 28
Plastic pot with screw cap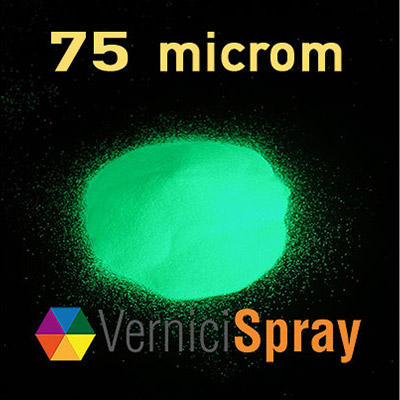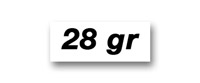 gr 28
More formats
Product code: NEXTGLOW-PIG-75-28
EAN: 8052131656283
Pack: Plastic pot with screw cap
Finish: gr 28
Availability: Good
Unit price: 13.00 €without VAT
15.60 €
VAT included
Valid until: 31-12-2021
Add to Cart
---
Glow in the Dark Paints Photoluminescents Spray and brush
---
Product Description
NEXTGLOW is a high quality Glow in the Dark Pigment: it absorbs the light during the day and gives off phosphorescent light at night. The pigment contained in the powder is the best that you can find: after the exposure to light, in the dark the emission of pale green light lasts more than 12 hours.

FEATURES: In the light the pigment appears whitish and in the dark it gives off a greenish light that it has stored up during the exposure to light. Just keep the pigment in the light for some time and then bring it in the dark to see the amazing effect. The phosphorescent pigment is also sensitive to Wood's Lamp (black light), in this case the exposure to light is not necessary. We always recommend to use it on white surfaces, that let to microgranules (75 microns) of pigment to be loaded as much as possible, unlike dark surfaces that absorb the light and prevent the pigments from working.
FIELDS OF APPLICATION: The powder pigment can be used for many purposes and dependis on your needs you can mix it with many substances. Remember to mix the pigment powder always with substances without UV filters, otherwise the phosphorescent effect will not work. For example, you can mix the glow in the dark pigment with transparent plastics, catalyzed resins, candles paraffin and all that comes into your mind, provided they are materials that pass the visible light and UV rays.
Pigment 75 microns
Technical Details
gr: 28-15-500
Technical Details and Useful suggests: Our Glow in the Dark Pigment WORKS in the Dark (if it has been exposed to light for some time) and with Black Light (Wood's Lamp)
LENGHT OF THE EMISSION OF PHOSPHORESCENT LIGHT AFTER THE EXPOSURE: more than 12 hours
BEGINNING OF DECAY OF THE PIGMENT: after 10 years
IT IS NOT RADIOACTIVE
The mixing with substances with UV filters can prevent the pigments from working, damaging the phosphorescent effect
The Phosphorescent Pigment can be applied safely on human body, for example mixing it with an usual body cream. Just remember to mix the pigment always with products without UV filters.
---
---
More formats
Choose the format you need
Last Update: Mar 30, 2021
Views: 89020
---
Comments
The reviews of those who bought this product


Vincenzo
SONO ABBASTANZA...
SONO ABBASTANZA SODDISFATTO PER L'ACQUISTO FATTO. HO TROVATO NEI VARI COLLOQUI TELEFONICI TANTA GENTILEZZA SODDISFAZIONI DISPONIBILITA' E QUELLO CHE MI HA SODDISFATTO LA GENTILEZZA.
Products purchased


FUSENA, S.L.
todo fue conforme...
todo fue conforme lo esperado, y la atencion para aclarar algun asunto fue contestada por mail con mucha rapidez.
Products purchased
---
The reviews of those who bought this product, but in a different color


riccardo
Prodotto veramente efficiente,si illumina in una maniera fantastica col la luce Wood.
Products purchased


Marcello


Anna Rita


Giulia


Massimiliano


JENNIFER


Alessandro
Se avrò necessità di altri prodotti, acquisterò ancora volentieri da VerniciSpray
Products purchased


STEFANO
GENTILE VERNICISPRAY, BUONGIORNO. SONO STEFANO DALLA CALABRIA. HO TESTATO IL VOSTRO PIGMENTO FOSFORESCENTE MISCELATO ALLA BICOMPONENTE EPOSSIDICA PER COSTRUIRE ARTIFICIALI DA PESCA. RISULTATO: ECCEZIONALE. VI RINGRAZIO SENTITAMENTE. SPERO SOLO CHE ORA DIA I RISULTATI DESIDERATI (OVVIAMENTE A PESCA!!!!!!) CORDIALI SALUTI. STEFANO
Products purchased