Touch Up brushes in fine vajo kazan hair, different sizes - Car Touch up Brush size 4
In bulk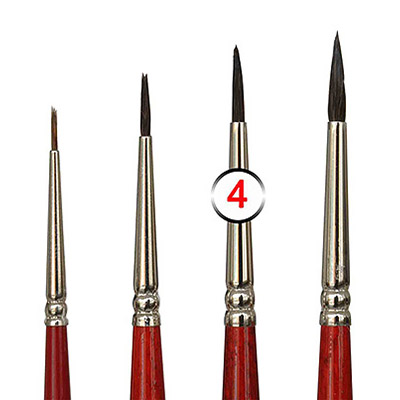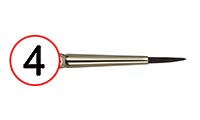 Car Touch up Brush size 4
More formats
Product code: PRA-04
Pack: In bulk
Finish: Size 4
Availability: Good
Unit price: 4.50 €without VAT
5.40 €
VAT included
Valid until: 31-12-2021
Add to Cart
---
Car Spray Paint and pot for Automotive Touch Up
---
Product Description
Car touch-up brushes perfect for long and fine scratches and paint stone chips: thanks to brush application you will be able to paint only the scratch, without painting the surrounding parts. It is essential to paint with the brush only when the part to be repaired is a small point with damaged paint, or is a micro-scratch: painting larger areas with a brush makes the reparation too visible, because the paint can never be spread well as when you spray paint, in those case we recommend the use of spraycan. When you have to repair narrow and long scratches on the car bodywork, the brush is a perfect tool to join with our car touch-up paint in pot produced in all car manufacturing colours: it has the precision of a touch-up pen with the advantage of paint with the correct car colour thanks to VerniciSpray paint, since the common touch up paint pens can not guarantee this precision because they are produced in stock and don't have a univocal correspondence between the item and the colour code.
To search your paint use the small panel "Search Car Colour" on the right or visit the car paint research page.

These are specific high quality brushes for car body repair:
Short handle Total length of about 17 cm excluding bristles. Allows a good handling to reach all areas.
Round tip of Vajo Kazan hair One of the most precious for capillarity and softness.
Reusables Once washed, they can be used several times.
Technical Details
pcs: 1 or 4
Technical Details and Useful suggests: Available in 4 sizes, choose yours:
size 0 Specific for paint stone chips. Alternately, you can also choose our disposable micro brushes, suitable for small touch up.
size 2 A little thicker than size 0, also in this case it is recommended for very small repairs (about 1 mm height of scratch and diameter of chips).
size 4 Recommended when the scratch height is 2-3 millimeters.
size 6 With the largest size you can repair scratches until half a centimeter. According to our experience, it is the maximum size to be touched up with brush without creating a too visible repair on bodywork.
You can even choose the complete paint brush touch up set, including one brush for each size, to have at your disposal the correct brush for each kind of repair and choose the right one at the moment of your spot repair work.
---
---
More formats
Choose the format you need

---
Related Products
Bodywork 2k Lacquer in pot to spray or to be used with brush. Gloss or Matt. To protect any paints, especially for Bodywork Touch Up

15.12 €VAT included

Bodywork Touch up Paint in pot 100 ml. Custom Pastel colours to use with our Spray Gun, air gun or brush.

12.24 €VAT included

Automotive touch up paint for our Spray Gun or brush application. This pot is 100 ml: just contact us to have a quote of paints in medium-large quantity

22.50 €VAT included
Last Update: Oct 14, 2021
Views: 60886
---
Comments
The reviews of those who bought this product


ALAIN
Le produit correspond... Pour le délai...
Le produit correspond parfaitement à mes attentes. Pour le délai d'expédition un petit peu long et les frais d'expédition, je comprend car le produit vient d'Italie.
Products purchased


Giuseppe
Ottimo venditore...
Ottimo venditore, professionalmente organizzato per fornire la vernice giusta
Products purchased


Didier


wenceslas


Gordon


Giuseppe
,MI RITENGO PIENAMENTE SODDISFATTO PER LA RIUSCITA DI QUESTO PRODOTTO CHE HA RISOLTO IN PIENO L' OTTIMO RISULTATO VOLUTO ! GRAZIE E BUONA CONTINUAZIONE PER RISULTATI SEMPRE MIGLIORI ! GIUSEPPE
Products purchased


Michel


leonardo
prodotto come...
prodotto come da descrizione,spedizione veloce,costi adeguati. Tutto bene Consigliatissimo
Products purchased


francesco
Il colore e ...
Il colore e perfettamente compatibile e anche i ritocchi dei segni sulla carrozzeria fatti a pennello hanno comunque avuto un discreto risultato visivo direi che sono soddisfatto.
Products purchased


MARCO
Molto soddisfatto...
Molto soddisfatto....ampia scelta Prezzi ottimi Tempi di consegna rapidi
Products purchased
---