NextAcril - Gloss Acrylic Spray Paint even for PVC e ABS Ral 9005 jet black
Spray can 400 ml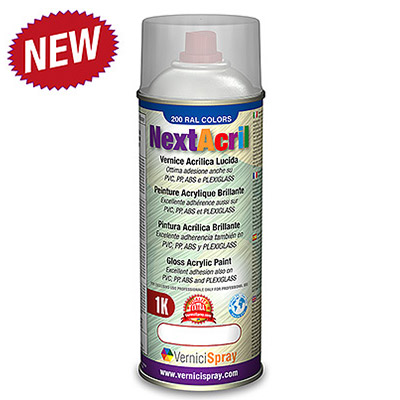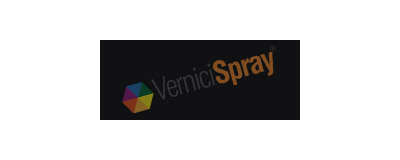 Ral 9005 jet black
Other Colours
Availability: Good
Unit price: 12.50 € 11.25 €without VAT
13.50 €
VAT included
Valid until: 31-08-2021
Add to Cart
---
Paints RAL Nitro and Acrylic
---
Product Description
NextAcril is the acrylic paint produced by VerniciSpray. It is a high-quality gloss acrylic paint with a considerable anchoring power on many types of surfaces, in particular it adheres perfectly to the plastic which is known to be a difficult material and usually needs to be treated with anchoring primer before painting. With NextAcril we have tested a very good adhesion on PVC, polypropylene, ABS, plexiglass, without the need for primer. It has quick drying, especially in the "dust free" phase, which is fundamental for a uniform finish, very good esthetically. Thanks to its completely acrylic composition, is very light-resistant and does not yellowish or change color, it is more elastic than a nitro paint, for example, and is therefore more difficult to crack over time.
Instructions for Use: Clean and degrease the surfaces well before painting. Then sand or just make it matt with scotch brite in case of surfaces already in good condition. Apply 2 or 3 coats of paint with interval of about 5 minutes.
It is a pure acrylic paint, so please note that it does not resist alcohol and gasoline, nor it can be polished with abrasive products, but already has a high gloss brilliance.
Coverage: one spray covers about 1 square metre (2 coats).
Technical Details
400: ml
Technical Details and Useful suggests: Drying time (at 20°C and 60% RH):
- dry dust free 5 min
- dry to the touch 20 min
- dry in depth 3-4 hours

Application: 2/3 coats at about 5 min

Coverage: about 1 sqm with one spray
---
---
Other Colours
Select the Colour you need
Ral 9005 jet black

NAL9005
---
Related Products
Fine grain abrasive buffer, ideal to dull surfaces to be painted when they are in good condition and don't need a harder sanding

2.28 €VAT included

Professional spray nozzle for spray paints, it works with any spray cans

7.44 €VAT included

Gloss Lacquer for Bodywork paint protection - No Yellowing

10.44 €VAT included
Last Update: Sep 7, 2021
Views: 335875
---
Comments
The comments of those who bought this product but in a different color


Cristian


Alfredo
Vernice discreta, recipienti scadenti ,infatti una bomboletta dell'acquisto precedente, dopo venti giorni ,tenuta in garage al fresco l'ho trovata con una perdita alla base di cellulosa.
Products purchased