NextAcril - Gloss Acrylic Spray Paint even for PVC e ABS RAL 9005 Negro intenso
Paints RAL Nitro and Acrylic
Spray can 400 ml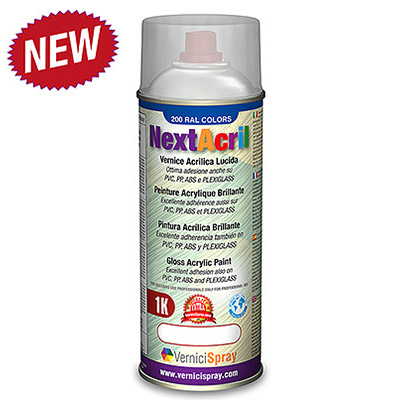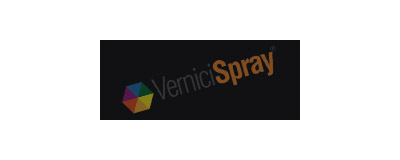 RAL 9005 Negro intenso
Other Colours
Availability: Good
Unit price: 12.50 €without VAT
15.00 €
VAT included
Valid until: 30-06-2022
Add to Cart
---
Product Description
NextAcril is the acrylic paint produced by VerniciSpray. It is a high-quality gloss acrylic paint with a considerable anchoring power on many types of surfaces, in particular it adheres perfectly to the plastic which is known to be a difficult material and usually needs to be treated with anchoring primer before painting. With NextAcril we have tested a very good adhesion on PVC, polypropylene, ABS, plexiglass, without the need for primer. It has quick drying, especially in the "dust free" phase, which is fundamental for a uniform finish, very good esthetically. Thanks to its completely acrylic composition, is very light-resistant and does not yellowish or change color, it is more elastic than a nitro paint, for example, and is therefore more difficult to crack over time.
Instructions for Use: Clean and degrease the surfaces well before painting. Then sand or just make it matt with scotch brite in case of surfaces already in good condition. Apply 2 or 3 coats of paint with interval of about 5 minutes.
It is a pure acrylic paint, so please note that it does not resist alcohol and gasoline, nor it can be polished with abrasive products, but already has a high gloss brilliance.
Coverage: one spray covers about 1 square metre (2 coats).
Technical Details
400: ml
Technical Details and Useful suggests: Drying time (at 20°C and 60% RH):
- dry dust free 5 min
- dry to the touch 20 min
- dry in depth 3-4 hours

Application: 2/3 coats at about 5 min

Coverage: about 1 sqm with one spray
Last Update: Sep 7, 2021, Views: 457252
---
Related Products
Gloss Lacquer for Bodywork paint protection - No Yellowing

10.44 €VAT included

Fine grain abrasive buffer, ideal to dull surfaces to be painted when they are in good condition and don't need a harder sanding

2.28 €VAT included

Professional spray nozzle for spray paints, it works with any spray cans

7.44 €VAT included
---
Comments
The reviews of those who bought this product
---
The reviews of those who bought this product, but in a different color