NextNitro - Nitro Spray Paint in Gloss RAL colours Ral 9006 white aluminium
Spray can 400 ml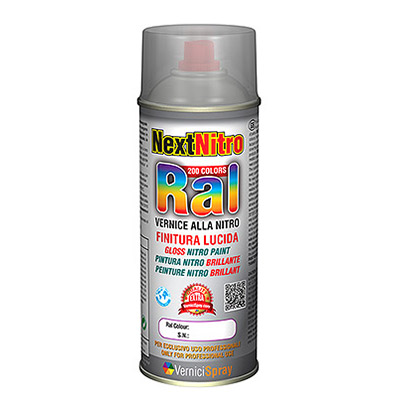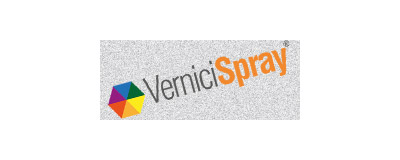 Ral 9006 white aluminium
Other Colours
Availability: Good
Unit price: 12.50 €without VAT
15.00 €
VAT included
Valid until: 31-12-2021
Add to Cart
---
Available in different formats Ral 9006 white aluminium
Paints RAL Nitro and Acrylic
---
Product Description
NextNitro produced by VerniciSpray is indicated for who wants high quality paints and want to choose among all the RAL colours. A nitro paint is cannot be compared with acrylic paints: with gloss nitro paints, you have the best resistance to scratches and bumps thanks to their hardness and you get even the best coverage. NextNitro is particularly suitable for the painting of iron parts, industrial and agricultural machinery, automotive, motorbikes. Thanks to their resistance to petrol and chemicals, nitro paints are perfect for modeling, because in this case the resistance to fuel is very important.
VerniciSpray produces nitro paints in spray in all the RAL colours with gloss finish (and even every matt RAL colour) that you can find in the Colour Fan Deck RAL K7: all the colours are always availabe.
Instructions: Clean carefully the surface and make it matt using fine abrasive paper or scotch brite. Shake very well for some minutes and spray the paint at about 15-25 cm distance, applying 2 coats with an interval of about 10 minutes. We recommend spraying in thin layers, but make sure the surface is wet well with the paint. For drying times of Gloss Nitro Paints see the Technical Details below.
Coverage: about 1 sqm/spraycan.
The line NextNitro is marked with the QUALITY EXTRA brand, produced by VerniciSpray with a special care. PAINT REMOVAL WITH ACETONE AND/OR NITRO THINNER.
Technical Details
ml: 400
Technical Details and Useful suggests: Drying Time at 20°C: dry dust free 5 min, dry to the touch 30 min, dry in depth 8 h. It can be polished with abrasive paper or polish after 6-8 h. Coverage: about 1 sqm/spraycan. PAINT REMOVAL WITH ACETONE AND/OR NITRO THINNER.
---
---
Other Colours
Select the Colour you need
Ral 9006 white aluminium

NNL9006
---
Related Products
Last Update: Sep 7, 2021
Views: 1147322
---
Comments
The reviews of those who bought this product


juan
Hola. Todo perfecto...
Hola. Todo perfecto. Buen producto y trato perfecto, Un saludo.
Products purchased


Isabelle
Produit conforme...
Produit conforme à mon attente. Livraison réalisé dans les délais.
Products purchased


Daniele
Colore perfetto...
Colore perfetto ma doveva essere brillante e invece lo è poco.
Products purchased


gianluca
---
The reviews of those who bought this product, but in a different color


Davide


FRANCESCO
UN SOLO PICCOLO PROBLEMA ESEMPIO SE MI INTERESSA LA GRANA N. 2000 - 3000 ESISTE? la trovo sul vostro prospetto di vendita? grazie
Products purchased


DARIO


diego


diego


Gianfranco