Last Update:
24 Novembre, 2018
SUBARU Touch Up paint: Spray Paint for LEGACY in metallic colour 64Z NEWPORT BLUE MET.
VCD-SUB-64Z
Reviews
1
- Evaluation
5.0
Descrizione
SUBARU Custom Paint NextColor in Metallic and Pearl Colours for model LEGACY is a very quality production by VerniciSpray: we produce it according to customers' requests to offer him the original colour of his car, that is 64Z NEWPORT BLUE MET. in this case. Thanks to this customisation, our car paint is ideal for touch up of car and motorbike's bodywork. The paint composition is defined at the time of purchase and then it is written on the label of the spray paint for SUBARU LEGACY. You can find easily your car colour code thanks to our guide. (See on the right)
Double Coat: the metallic or pearl colours have matt finish, so this kind of paint needs 1K Gloss Clear Coat, for a professional and more brilliant result we suggest one of our 2K High Gloss Clear Coats. If you want more information about our Protective Lacquer, look at our Short Guide.
One spraycan covers a surface about 1-2 mq wide.
Small colour differences are possible. Use with care.
Instructions for Use: Clean carefully the surface before painting. Shake well for some minutes. Spray paint's temperature must be at 20°/25°C. Spray the product on the surface to be painted in an uniform way at about 20-25 cm distance. To prevent leaking, we recommend to spray the enamel in thin layers, repeating the action with time intervals, if necessary. For a sure excellent coverage, the use of the handle MAGNUM is recommended: it lets spread the paint with more precision. Available in Metallic and Pearl Colours. Remove the paint with acetone and/or nitro thinner.
Spray can 400 ml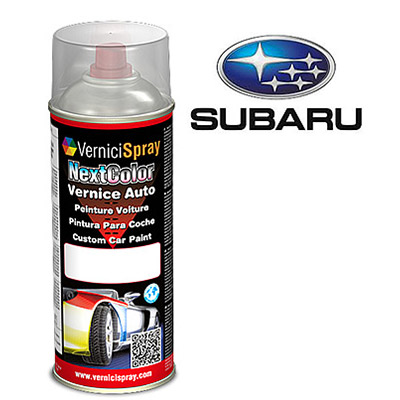 64Z NEWPORT BLUE MET.
Available in different formats
Select the Colour you need
SUBARU

Color Chart Car Model:

LEGACY

Please enter a valid email address.
Original Colour Code
Year
Product code
=COMBINAZIONE SUB 230 - SUB 076
8E5
2001 - 2004
VCD-8E5M052
=COMBINAZIONE SUB 262 - SUB 49B
8X8
2001 - 2004
VCD-8X8M069
=COMBINAZIONE SUB 433 - SUB 076
8E4
2001 - 2004
VCD-8E4M051
=COMBINAZIONE SUB 444 - SUB 89N
8X7
2001 - 2004
VCD-8X7M068
=COMBINAZIONE SUB 466 - SUB 49B
4T5
2001 - 2004
VCD-4T5M039
=COMBINAZIONE SUB 466 - SUB 89N
8Y8
2001 - 2004
VCD-8Y8M072
=COMBINAZIONE SUB 54A - SUB 076
8E3
2001 - 2004
VCD-8E3M050
=COMBINAZIONE SUB 54A - SUB 89N
8Y7
2001 - 2004
VCD-8Y7M071
=COMBINAZIONE SUB 81N - SUB 89N
8K1
2001 - 2004
VCD-8K1M059
=COMBINAZIONE SUB 82X - SUB 89N
8Y3
2001 - 2004
VCD-8Y3M070
=COMBINAZIONE SUB 83N/ SUB 89N
8K4
2001 - 2004
VCD-8K4M061
=COMBINAZIONE SUB 841 - SUB 076
8E6
2001 - 2004
VCD-8E6M053
=COMBINAZIONE SUB 841 - SUB 49B
8E2
2001 - 2004
VCD-8E2M049
=COMBINAZIONE SUB 841 - SUB 89N
8X5
2001 - 2004
VCD-8X5M067
=COMBINAZIONE SUB-433 / SUB-49B
4T4
2001 - 2004
VCD-4T48163
=COMBINAZIONE SUB-54A/SUB-49B
5T3
2001 - 2004
VCD-5T38123
=COMBINAZIONE SUB-55A/SUB-49B
5U4
2001 - 2004
VCD-5U48125
=COMBINAZIONE SUB-947/SUB-49B
4T6
2001 - 2004
VCD-4T68122
=COMBINAZIONE SUB 946 / SUB 49B
5Y2
2001 - 2004
VCD-5Y2M233
=COMBINAZIONE SUB 29W /SUB 35S
3M1
2006 - 2006
VCD-3M1M268
=COMBINAZIONE SUB 29W /SUB 45A M258
6S8
2007 - 2007
VCD-6S8M320
=COMBINAZIONE SUB 32J /SUB 35S
3K4
2006 - 2006
VCD-3K4M324
=COMBINAZIONE SUB 33A /SUB 35S
3M6
2006 - 2006
VCD-3M6M272
=COMBINAZIONE SUB 36J /SUB 35S
3M2
2006 - 2006
VCD-3M2M269
=COMBINAZIONE SUB 37J /SUB 45A M258
6B1
2007 - 2007
VCD-6B1M318
=COMBINAZIONE SUB 39D /SUB 35S
3K3
2006 - 2006
VCD-3K3M267
=COMBINAZIONE SUB 39D /SUB 45A M258
6S9
2007 - 2007
VCD-6S9M319
=COMBINAZIONE SUB 39J /SUB 35S
3M4
2006 - 2006
VCD-3M4M270
AQUA MICA
54D
1998 - 1999
VCD-SUB-54D
ARTIC WHITE MET.
32L
2005 - 2006
VCD-SUB-32L
ATLANTIC BLUE MET.
4CWAWWA
2005 - 2006
VCD-SUB-31F
ATLANTIC BLUE MET.
4CWAWWA
2006 - 2006
VCD-SUB-33A
AZURITE BLUE MET.
E6F
2010 - 2011
VCD-SUB-E6F
BEAMS BROWN MET.
C1S
2008 - 2013
VCD-SUB-C1S
BLACK GRANIT PEARL
54A
1998 - 2005
VCD-SUB-54A
BLACK MICA M.
47A
2006 - 2006
VCD-SUB-47A
BLACK(U.HOOD OF 47A - 85F)
CS84
2006 - 2006
VC-SUB-CS84
BLUE MICA MET.
4CWAWWA
2002 - 2005
VCD-SUB-14L
BLUE(U.HOOD OF 81N - 74F - 52D)
CS31
2006 - 2006
VC-SUB-CS31
BRIGHT RED
559
1997 - 1999
VC-SUB-559
BRILLIANT SILVER MET.
39D
2005 - 2007
VCD-SUB-39D
BRILLIANT SILVER MET.
DG914
2006 - 2006
VCD-SUB-DG914
BRT SILVER MET.
19X
2005 - 2005
VCD-SUB-19X
BRT.RED
372
1994 - 1998
VC-SUB-372
BURNISHED BRONZE MET.
H4Q
2012 - 2012
VCD-SUB-H4Q
CAMELLIA RED MET.
69Z
2009 - 2011
VCD-SUB-69Z
CARAMEL BRONZE MET
F1H
2011 - 2013
VCD-SUB-F1H
CARBIDE GREY MET.
JV9
2014 - 2015
VCD-SUB-JV9
CARMINE MICA MET.
309
1993 - 1993
VCD-SUB-309
CERAMIC WHITE
057
1990 - 1991
VC-SUB-057
CHAMPAGNE GOLD MET.
33L
2005 - 2007
VCD-SUB-33L
COOL GRAY OPALE MET.
55D
1998 - 1999
VCD-SUB-55D
CREAM WHITE
82X
2000 - 2004
VC-SUB-82X
CRYSTAL BLACK SILICA MET.
D4S
2010 - 2015
VCD-SUB-D4S
CYPRESS GREEN MET.
F4T
2010 - 2014
VCD-SUB-F4T
DARK AMETHYST GALAXY/BLUE MET.
D7H
2008 - 2011
VCD-SUB-D7H
DARK GREEN MICA
16L
2002 - 2005
VCD-SUB-16L
DARK GREY MET.
25L
2003 - 2003
VCD-SUB-25L
DARK GREY MET.
61K
2013 - 2013
VCD-SUB-61K
DEEP BRONZE MET.
BM
2008 - 2009
VCD-SUB-BM
DEEP SAPPHIRE PRL.MET.
466
1998 - 2005
VCD-SUB-466
DEEP SEA BLUE MET.
H3Q
2012 - 2012
VCD-SUB-H3Q
DIAMOND GREY MET.
65Z
2006 - 2010
VCD-SUB-65Z
DK. BLUE MET.
4CWAWWA
2003 - 2003
VCD-SUB-17X
DK. GREEN MET.
443
1994 - 1998
VCD-SUB-443
DK. GREEN MICA
51D
1999 - 1999
VCD-SUB-51D
DK. GREEN MICA MET.
278
1992 - 1993
VCD-SUB-278
DK. RED MICA
53D
1998 - 2000
VCD-SUB-53D
DK.BLUE MICA MET.
52D
1998 - 1999
VCD-SUB-52D
DK.BLUE MICA MET.
416
1994 - 1998
VCD-SUB-416
DK.GREEN MET.
952
1990 - 1991
VCD-SUB-952
DK.GREY MET.
222
1992 - 1993
VCD-SUB-222
DK.RED MICA MET.
265
1994 - 1998
VCD-SUB-265
DK.RED MICA MET.
841
2000 - 2004
VCD-SUB-841
GALAXY BLUE SILICA MET.
E8H
2010 - 2012
VCD-SUB-E8H
GARNET RED MET.
33J
2005 - 2006
VCD-SUB-33J
GOLD MET.
229
1992 - 1992
VCD-SUB-229
GRANITE GREY OPAL MET.
35S
2005 - 2006
VCD-SUB-35S
GRAPHITE BLACK MET.
18L
2002 - 2006
VCD-SUB-18L
GRAPHITE GREY MET.
F3T
2010 - 2013
VCD-SUB-F3T
GREEN GREY MET.
444
1994 - 2005
VCD-SUB-444
GREEN MET.
07V
2001 - 2001
VCD-SUB-07V
GREEN MICA MET.
83N
1999 - 2004
VCD-SUB-83N
GREENISH GREY OPAL MET.
16K
2005 - 2005
VCD-SUB-16K
GREY
91H
2000 - 2000
VC-SUB-91H
GREY
88N
1999 - 1999
VC-SUB-88N
GREY MET.
09V
2001 - 2001
VCD-SUB-09V
GREY OPAL MET.
89N
1999 - 2005
VCD-SUB-89N
GREY(U.HOOD OF 811 - 839 - 83N)
N20
2006 - 2006
VC-SUB-N20
HARVEST GOLD MET.
69K
2008 - 2010
VCD-SUB-69K
ICE SILVER MET.
E1U
2015 - 2015
VCD-SUB-E1U
ICE SILVER MET.
G1U
2011 - 2014
VCD-SUB-G1U
INDIGO BLUE MET.
4CWAWWA
1991 - 1993
VCD-SUB-013
INDIGO BLUE MET.
G5U
2012 - 2014
VCD-SUB-G5U
JADE GREEN MET.
758
1990 - 1991
VCD-SUB-758
LAPIS BLUE PRL.
K3X
2014 - 2015
VCD-SUB-K3X
LIGHT GREY MET.
C6Z
2009 - 2013
VCD-SUB-C6Z
LIME GREEN MET.
025
1990 - 1991
VCD-SUB-025
LT.BLUE MET.
280
1992 - 1993
VCD-SUB-280
LT.SILVER MET.
262
1992 - 2004
VCD-SUB-262
LT.SILVER MET.
406
1994 - 1999
VCD-SUB-406
MED.BLUE MICA MET.
227
1992 - 1992
VCD-SUB-227
MED.GREY MET.
217
1992 - 1993
VCD-SUB-217
MED.GREY MET.
474
1994 - 1995
VCD-SUB-474
METAL/URBAN GREY MET.
45A
2005 - 2007
VCD-SUB-45A
MICA RUBY MET.
947
1990 - 1999
VCD-SUB-947
MISTY DAWN (LAVA)MET.
059
1990 - 1991
VCD-SUB-059
MOOS GREEN MET.
38G
2005 - 2005
VCD-SUB-38G
MUSTARD MICA MET.
82H
1999 - 2004
VCD-SUB-82H
NEWPORT BLUE MET.
4CWAWWA
2007 - 2009
VCD-SUB-64Z
OBSIDIAN BLACK MET.
32J
2003 - 2009
VCD-SUB-32J
PEWTER SILVER MET.
944
1990 - 1991
VCD-SUB-944
PLATINUM GREY MET
K2X
2014 - 2014
VCD-SUB-K2X
POLAR WHITE
955
1990 - 1991
VC-SUB-955
POSEIDON BLUE
4CWAWWA
1990 - 1990
VC-SUB-956
PREMIUM SILVER MET.
01G
2002 - 2003
VCD-SUB-01G
QUARZ SILVER MET.
A7K
2008 - 2009
VCD-SUB-A7K
RED MICA
82F
2001 - 2004
VCD-SUB-82F
RED MICA PRL. MET.
94H
2000 - 2005
VCD-SUB-94H
REGAL BLUE MET.
4CWAWWA
2005 - 2007
VCD-SUB-31L
REGAL BLUE MET.
4CWAWWA
2009 - 2009
VCD-SUB-35J
RIO RED
946
1990 - 2004
VC-SUB-946
RIO RED
046
1997 - 2000
VC-SUB-046
RUBY RED MET.
D1T
2009 - 2012
VCD-SUB-D1T
SAGE GREEN MET.
C1F
2010 - 2011
VCD-SUB-C1F
SANDSTONE MET.
076
1990 - 2002
VCD-SUB-076
SATIN WHITE
35F
2005 - 2005
VC-SUB-35F
SATIN WHITE MET.
37J
2004 - 2014
VCD-SUB-37J
SIDNEY/LIBERTY BLUE MICA
4CWAWWA
2001 - 2005
VCD-SUB-55A
SILVER MET.
792
1999 - 2004
VCD-SUB-792
SILVER MET.
97H
2000 - 2000
VCD-SUB-97H
SKY BLUE MET.
E7F
2012 - 2012
VCD-SUB-E7F
SKY BLUE MET.
A7F
2010 - 2012
VCD-SUB-A7F
SLATE GREY MET.
943
1990 - 1991
VCD-SUB-943
SLATE/GREY MET.
49B
1996 - 2004
VCD-SUB-49B
SPARK YELLOW MET.
37S
2006 - 2006
VCD-SUB-37S
SPRUCE PRL.MET.
433
1998 - 2004
VCD-SUB-433
STERLING SILVER MET.
D6S
2010 - 2010
VCD-SUB-D6S
SUNLIGHT GOLD OPAL MET.
D6H
2008 - 2011
VCD-SUB-D6H
TUNGSTEN GREY MET.
K7U
2014 - 2015
VCD-SUB-K7U
TWIGHLIGHT BLUE MET.
H1Q
2013 - 2015
VCD-SUB-H1Q
VENETIAN RED MET.
H2Q
2012 - 2012
VCD-SUB-H2Q
VENETIAN RED MET.
2Q
2012 - 2015
VCD-SUB-2Q
VIOLET MICA MET.
81N
1999 - 2004
VCD-SUB-81N
WARM GREY (UNDERHOOD )
CS8N
2006 - 2006
VC-SUB-CS8N
WHITE
230
1992 - 1999
VC-SUB-230
WHITE
51E
1998 - 2005
VC-SUB-51E
WHITE MICA MET.
01X
2001 - 2005
VCD-SUB-01X
WOODLAND GREEN PRL. MET.
29W
2005 - 2005
VCD-SUB-29W
WRX BLUE MICA MET.
4CWAWWA
2003 - 2011
VCD-SUB-02C
YELLOWISH RED PRL.
18X
2005 - 2005
VCD-SUB-18X
Technical Details
Last Update: Apr 3, 2020 - Views: 72106872