NextNitro - Nitro Spray Paint in Matt RAL colours Ral 6003 olive green
Spray can 400 ml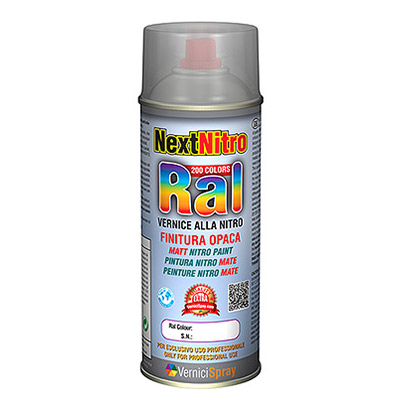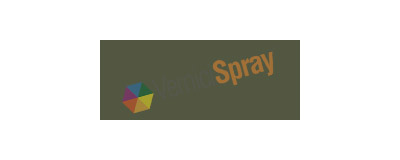 Ral 6003 olive green
Other Colours
Availability: Good
Unit price: 12.50 € 11.25 €without VAT
13.50 €
VAT included
Valid until: 31-12-2021
Add to Cart
---
Available in different formats Ral 6003 olive green
Paints RAL Nitro and Acrylic
---
Product Description
NextNitro produced by VerniciSpray is indicated for who wants high quality paints and want to choose among all the RAL colours. A nitro paint is cannot be compared with acrylic paints: with matt nitro paints, you have the best resistance to scratches and bumps thanks to their hardness and you get even the best coverage. NextNitro is particularly suitable for the painting of iron parts, industrial and agricultural machinery, automotive, motorbikes. Thanks to their resistance to petrol and chemicals, nitro paints are perfect for modeling, because in this case the resistance to fuel is very important.
VerniciSpray produces nitro paints in spray in all the RAL colours with matt finish (and even every gloss RAL colour) that you can find in the Colour Fan Deck RAL K7: all the colours are always availabe.
Instructions: Clean carefully the surface and make it matt using fine abrasive paper or scotch brite. Shake very well for some minutes and spray the paint at about 15-25 cm distance, applying 2 coats with an interval of about 10 minutes. We recommend spraying in thin layers, but make sure the surface is wet well with the paint. For drying times of Matt Nitro Paints see the Technical Details below.
Coverage: about 1 sqm/spraycan.
The line NextNitro is marked with the QUALITY EXTRA brand, produced by VerniciSpray with a special care. PAINT REMOVAL WITH ACETONE AND/OR NITRO THINNER.
Technical Details
ml: 400
Technical Details and Useful suggests: Drying time (at 20°C and 60% RH):
- dry dust free 5-10 min
- dry to the touch 20 min
- dry in depth 3-4 hours.
---
---
Other Colours
Select the Colour you need
Ral 6003 olive green

NNO6003
---
Related Products
Last Update: Sep 7, 2021
Views: 942520
---
Comments
The reviews of those who bought this product


ADRIANO


Christophe
Les couleurs... Je recommande...
Les couleurs du nuancier n'apparaissent pas bien sur l'écran des teintes aux normes OTAN seraient nécessaires mais ces produits sont de très bonne qualité Je recommande cette entreprise
Products purchased


AMATOBENE
---
The reviews of those who bought this product, but in a different color


Paolo


Maurizio
Ottimi prodotti. Servizio al cliente eccezionale e grande disponibilità al supporto. Veramente bravi!
Products purchased


Antonio


benedetto
Prodotto ottimo che mi ha consentito di ottenere un eccellente risultato finale, che penso durera' a lungo.
Products purchased


Marco


Marco


Gregorio
nulla da dichiarare! siete molto efficienti e la qualità del prodotto è ineccepibile
Products purchased