NextDip Removable Rubber coating in spray can in every RAL colours Black
Spray can 400 ml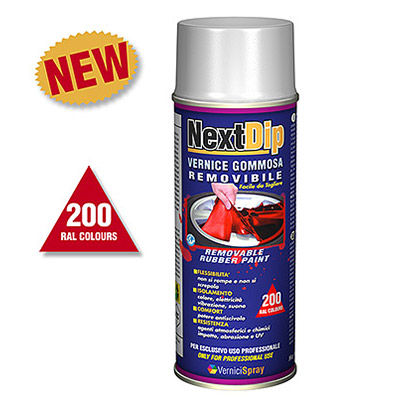 Black
Other Colours
Product code: NEXTDIP-ON1
EAN: 8052131641968
Pack: Spray can 400 ml
Category: Spray removable Paints
Finish: Black
Availability: Good
Unit price: 15.00 €without VAT
18.00 €
VAT included
Valid until: 31-12-2021
Add to Cart
---
Spray removable Paints
---
Product Description
NEW! REMOVABLE RUBBER COATING IN EVERY RAL COLOUR AND PASTEL CAR COLOURS!
NextDip is a very innovative product, formulated to create a removable rubber film on every kind of surface, with protective or decorative purpose, without affecting the substrate.
It is realized with synthetic rubber which does not crack over time, able to create a protective film that is aesthetically perfect and very pleasant to the touch, very durable and smooth. This rubber coating insulates against electrical shock, moisture and heat (resistant to a range of temperatures from -35°C to +93°C), and it is an anti-abrasive and sealant coating.
With this properties it is an ideal rubber coating that you can apply easily even on hard to reach areas thanks to the version in spray: moreover, once sprayed, the product tends to get uniformed, making even easier the application, and the rubber film is completely removable.
Application Fields: This spray rubber coating is very useful to protect or renovate car surfaces, or for moto and RV. NextDip is often used to renovate the look of the rims: once removed, the surface of the bodywork or rims returns to be like before the application of the spray film.
It is even useful to insulate electrical parts, such as electronic cards or electrical control cabinets, preventing malfunctioning due to moisture.

INSTRUCTIONS FOR USE: Shake well the spray can before and during the use. Spray at about 20-30 cm with a temperature of 20-25°C. Apply one thin first coat (without worrying about the coverage), wait 15-20 minutes and then apply the other coats (3 or 4, according to the thickness you want to achieve) with a time interval of about 30 minutes. For the complete drying, wait 4 hours from the application of the last coat.
The final result is quite matt, but the rubber film can become gloss with our 1k Gloss clear coat, so that the film will become gloss and will be still completely removable.

NextDip is the ideal product for Car Wrapping, the very popular new technique which consists in renovating the vehicles with the application of special adhesive films: with this product, now you can do it just with a spray can.
Technical Details
ml: 400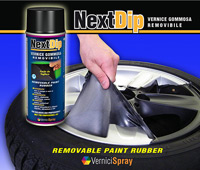 ---
---
Other Colours
Select the Colour you need

Last Update: Sep 7, 2021
Views: 868983
---
Comments
The reviews of those who bought this product


Yassine
Excellent ! ...
Excellent ! La teinte EPY est la bonne, pas comme sur Peinture Voiture. fr, qui est trop sombre ! Envoi rapide, site sérieux !
Products purchased


Roberto
Ottimo! Ho preso...
Ottimo! Ho preso 2 tipi di vernice, entrambi ottimi!
Products purchased


Giovanni
Perfetto!! I...
Perfetto!! I prodotti sono arrivati in 2 giorni e perfettamente imballati.
Products purchased


Maurizio
Prodotto di ...
Prodotto di ottima qualità, sia in riferimento al primer trasparente che alla vernice. Il trasparente alto-solido alto-lucido 2K, si è rivelato superiore alle aspettative: erogazione regolare, e costante; una capacità di "stendersi" sulla superficie notevole, sopratutto tenendo conto che si tratta di una vernice in bombola. Particolarmente comodo il sistema di erogazione del catalizzatore che consente di avere il prodotto in casa e programmare il lavoro nel momento più idoneo. Grazie e ai prossimi acquisti. M. P.
Products purchased


Stefano
tutto molto ... prodotti di ...
tutto molto veloce e preciso! prodotti di qualità e grande servizio di assistenza ed informazioni.
Products purchased


Simone


Giampiero


Alessandro
che dire... ...
che dire... i miei voti parlano da soli, anche se vi meritereste ancora di più. sono contento e soddisfato pienamente del prodotto acquistato. Grazie
Products purchased


Stefano


Ettore
---